2022 Annual Fall Career Fair
The 2022 Annual Fall Career Fair will be held Today, Wednesday, September 21, at the Student Development Complex Center. To accommodate the vast number of companies participating in the Career Fair, the Varsity Gym, Multipurpose Room, and Racquetball Courts will be closed all Day on Wednesday, September 21.
We are excited the Career Fair is back in person and for the many opportunities this gives our students.
Please let us know if you have any questions (recreation@mtu.edu), and we appreciate your cooperation and patience as we support this campus initiative.
---
Homecoming Registration Closes Tomorrow!
Join us in celebrating 100 years of football here at Michigan Tech! This year's homecoming celebration will include much of our usual fanfare including a royalty court, team competition, tailgate, and cardboard boat races! Register your team or a court nominee below. All registrations are due September 22nd by noon.
BLACK and GOLD never gets OLD!
---
MUB Board proudly presents…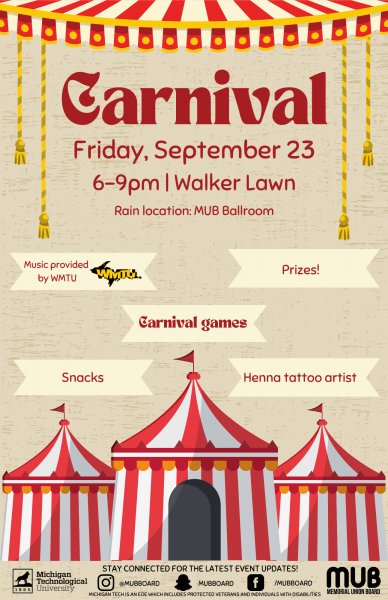 Come out for a nice night on the lawn filled with classic carnival games and fun! Other exciting activities include snacks, prizes, music with WMTU, and even a Henna artist! We hope to see you there!

Date: 09/23/2022
Time: 6 pm – 9 pm

Interested in planning events like this? Email us at mubboard@mtu.edu to get more information on how you can join our awesome crew!
Join us this weekend in the MUB Ballroom at 9pm for a night filled with laughter as we host LeClerc Andre, a comedian from New York. His quick wit and charm can be seen dazzling clubs and colleges across the country. LeClerc was not only featured last year at Just For Laughs Comedy Festival as one of the new faces of comedy, but he debuted on The Tonight Show with Jimmy Fallon in October as well. So grab a friend or a roommate and come see the show!
Check him out:
Instagram | LeClerc Andre
Facebook | LeClerc AndreYouTube Dry Comedy | LeClerc Andre
Date: THIS SATURDAY (09/24)
Time: 9pm
Location: MUB Ballroom
Event link: https://fb.me/e/29Bw4yO4V
Interested in planning events like this? Email us at mubboard@mtu.edu to get more information on how you can join our awesome crew!
---
Copper Country Color Tour
Come for a ride along the scenic shores of Lake Superior during peak fall colors in the 48th annual Copper Country Color Tour. Riding routes range from 60 km to 210 km, with the longest route going all the way to Copper Harbor, where pasties are provided to the riders. Sign up soon, so you get a free t-shirt designed by Chris Schmidt at Studio 13!
Date: Saturday, 9/24/22
Time: Ride starts at 8 am at the MEEM building
Event link: http://cycling.mtu.edu/events/color-tour/
---
Bracelets for Survivors Event
We hope that you will join us in making bracelets to support survivors in our community. The Registered Student Organization, SAVE, is partnering with Dial Help to host a bracelet-making event on Friday, September 23, from 2:00 to 6:00 pm on Walker Lawn. The event gives students a chance to give back to their community and earn volunteer hours.
Registration is available on GivePulse.
---
Make A Difference Day Registration Now Open!
---
This Week for Husky Innovate
New Venture Creation with Ed Kim
Registration is open for this upcoming innovation talk. Please join us and please share with this event students and community members who may be interested.
Ed Kim is a serial tech entrepreneur who has founded, funded, and led several startups as well as having a variety of financial and engineering leadership assignments with Fortune 500 companies.
Currently, he manages a grant program for the State of Michigan, funding DeepTech innovations of the Michigan research institutions; and is a Limited Partner at AVG DeepTech Venture Fund.
Join us on Wednesday, September 28th, from 4-5 pm as Ed shares his insights on commercializing innovations and lessons learned as an entrepreneur and an investor. This virtual event (Zoom) is open to the public.
Register here by 9/27. You must register in advance in order to receive the Zoom link.
Maker Space is Now Open!
The Alley Makerspace is NOW OPEN! No reservations required and all supplies and tools are completely free to use for MTU students, staff, and faculty!
Stop by the Makerspace in the MUB Basement from 3:00-9:00 pm, Monday through Thursday for the rest of the fall semester.
If you're interested in learning more about the Alley or becoming a volunteer coach at the Makerspace, email makerspace@mtu.edu
Idea Pitch Competition
Do you have an innovative idea that could disrupt the status quo and "business as usual"? Pitch your idea at the Idea Pitch Competition. Each contestant will have two minutes to share their idea in an interactive community setting.

Judges will vote to select top pitches and award cash prizes to the top contestants:
First place: $200
Second place: $100
Third place: $50
Honorable mention: $25 (two prizes offered)
Audience favorite: $25
This event will be hosted in the GLRC from 5:00-7:00 pm on October 4th. Snacks will be available.
Contact: huskyinnovate@mtu.edu with any questions.
Whether you are pitching or joining us as an audience member, please register by 10/2.
---
WIBIT
Come make a splash with our new inflatable pool obstacle course called the WIBIT! You can test your individual skills on the course or challenge your friend to a race across the obstacles. Events will be held this fall for current MTU Students and SDC Access Pass Holders (minimum 1-month). Student/Access ID is required to be presented upon entry into the pool area and a swim test is required before accessing the obstacle.

WIBIT Wednesdays: Wednesday, September 28th, October 26th, November 30th
5pm-7pm SDC Access Pass Holders Only (minimum 1-month Access)
7:30pm-9:30pm MTU Students Only

Saturday Splash!: Saturday, October 22nd, December 10th
12pm-4pm SDC Access Pass Holders (minimum 1-month) & MTU Students Only
---
Intramural Sports
IM Sports registration is open for FALL 2022 activities!
Register your team or as a free agent at www.imleagues.com/mtu
If you have any questions, please contact Craig Pellizzaro at 906-487-3040 or crpelliz@mtu.edu.
---
Karaoke Night
The Society of Hispanic Professional Engineers is having a karaoke night. It is open to everyone in the Michigan Tech Community and will be held this Friday, September 23, over in Fisher 328 from 6-8pm. Everyone is welcome to join and sing their heart out.
---
The Annual Cooperative Campus Ministry Progressive Dinner Returns
Lutheran Campus Ministry, Catholic Campus Ministries, and the Canterbury House are pleased to announce the return of the annual progressive dinner on Sunday, September 25, 2022.
The schedule for the dinner will be as follows:
4:00 pm Hors d' oeuvres St. Albert the Great University Parish
4:45 pm Salads Canterbury House
5:15 pm Main Course Portage Lake United Church
6:00 pm Desserts Good Shepherd Lutheran Church
This is a non-denominational, interfaith gathering for food, fellowship, and fun. All are welcome. Please RSVP rmbishop@mtu.edu if you plan to attend. If you have any questions, please contact Rob Bishop via email rmbishop@mtu.edu, or phone (906) 487-1964.
---
Center for Student Mental Health and Well-Being Presents
Building Career Confidence Workshop
Wishing you had a little more confidence in your job search, interviews, future work relationships, and more? This workshop will focus on building confidence, and self-care during the job search, and give you skills to handle your emotions during the job search and beyond.
When: Thursdays 11:00 a.m. – 12:00 p.m
Fearless Workshop
Fear is great when we are running from a bear, but what about the small daily fears around not being good enough? In this workshop, we will discuss the places fear originates, as well as ways you can work to reduce your fear and lean into your potential.
When: Thursdays 4:00 p.m. – 5:00 p.m.
Flu Shot Clinics
Mark your calendars! Flu shot clinics will be returning to campus in October! All of the pre-event information is available to students on our website! Bring your Be Well card along and get it stamped!
When and where:
October 4th, 4:00 PM – 6:00 PM, Rozsa
October 11th, 11:00 AM – 2:00 PM, Rozsa
October 18th, 4:00 AM – 6:00 PM, SDC
October 25th, 11:00 AM – 2:00 PM, Rozsa
Please contact wellness@mtu.edu with any questions.
---
This Week's Free Rozsa Events
This week, students can attend the following events for free with Student Rush through the Experience Tech Fee or because the event is free for all.
What is Student Rush? Line up for 1 hour before an event at the Experience Tech entrance with your valid HuskyCard and then tap yourself and up to one other person in for free! Student Rush is made possible by the Experience Tech Fee. Learn more.
The Rozsa Galleries Present
Arabesque: Art of Clement Yeh and Tomas Co*
Friday, Sept 23-Friday, Nov 4
M-F 8 a.m-8 p.m. | Sa 1-8 p.m.
In the Rozsa Galleries A-Space
Free for all
An immersive meditation on a body's movement through space. This exhibit features charcoal drawings by Clement Yeh and metal sculptures by Tomas Co.
The Rozsa and Michigan Tech Music Present
Samantha Ege*
Piano Workshop || Sept 28 6 p.m. | Free
Concert || Sept 29 7:30 p.m. | Student Rush
Speaker Event || Sept 30 2 p.m. | Free
The Rozsa Presents
Naila Ansari's Movement of Joy* **
Lunch & Learn || Sept 30 noon-1 p.m. | Free lunch with pre-registration
Workshop on Joy || Oct 1 10 a.m. | Free
Performance || Oct 1 7:30 p.m. | Student Rush
ACKNOWLEDGEMENTS
* This program/lecture is partially funded/sponsored by the Visiting Professor Program which is funded by a grant to the Office of the Provost from the State of Michigan's King-Chavez-Parks Initiative.
** This activity is supported by the MICHIGAN ARTS AND CULTURE COUNCIL and the NATIONAL ENDOWMENT FOR THE ARTS