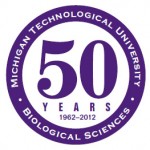 Many of our alums may not remember, but the Department of Biological Sciences began at MTU in 1962, meaning that 2012 is our official 50 year anniversary. Several Emeriti and Current Faculty (Dr. James Spain, Dr. Robert Keen, Dr. Thomas Snyder, and others) are putting together a brief history of the Department, where it was, has been, and is currently going. We (myself, Patty Asselin, Jeff Lewin, Emily Betterly and Alice Soldan, among others) are working on festivities to celebrate the 50th anniversary at the Alumni Gathering scheduled for August 2-4, 2012. We've already developed several activities that we hope will be of interest to alums from Biological Sciences for those dates. Please stay-tuned, more information will be coming out later, with individual mailings and the Spring 2012 newsletter.
Schedule for Alumni Weekend in celebration of Biological Sciences 50th Year Anniversary
Complete Reunion schedule Link
August 2
10:00 am Tech Talks: Dr. Nancy Auer, Professor, Department of Biological Sciences Fisher Hall (15)
Below the surface – Researching Great Lakes Fishes
Nancy has been working with and teaching about fishes of the Great Lakes for over thirty years. She is a well-known expert on lake sturgeon ecology and is an established researcher on larval fish identification.
August 3
4:00-5:30 pm Clinical Laboratory Science and Medical Technology Social- Dow Environmental Sciences Building (8), 7th floor atrium
Director of the CLS program Alice Soldan, a faculty member since 1976, will be completing her final year at Michigan Tech in spring 2013. Share your stories, meet classmates, and congratulate Alice on a successful career at Michigan Tech. Wine, beer, and light appetizers will be served. Cohosted by Alice and incoming CLS program director Karyn Fay '89. Exclusive to clinical laboratory science alumni and guests.
August 4
11:00 am – 2:00 pm Biological Sciences Family Picnic – Raymond Kestner Waterfront Park, Houghton
Bring the family and meet fellow alumni for great food and summer fun. Houghton's huge Chutes and Ladders park with slides, a playground, a beach, and a huge grass area perfect for Frisbee will ensure a fun-filled family afternoon!
1:00-3:00 pm Biological Sciences Alumni Agassiz Research Vessel Keweenaw Waterway Tours
Tour the Keweenaw Waterway during the biological sciences picnic lunch! Sign up for your time on the day of the event at the Family Picnic at the Raymond Kestner Waterfront Park (above). Minimum age is 8 years.
Great Lakes Research Center Events
August 2: Great Lakes Research Center Seminar & Dedication Schedule August 2: Symposium 9 am-1230 pm and Dedication 2 pm
August 3: Great Lakes Research Center Outreach Activities: Children's Laboratory Exploration: Investigating the Lake Superior Food Chain Using a Lake Trout Stomach! Research Vessel Agassiz Research Boat Tour; Introduction to Michigan Tech's NEW Signature Program: Family Engineering