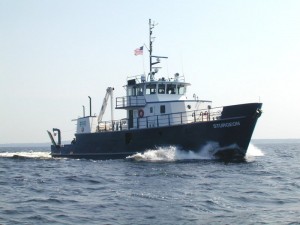 From 19 June 2013 Tech Today:
The US Geological Survey's Research Vessel Sturgeon is coming to Michigan Tech next week to help scientists from the Great Lakes Research Center conduct three research missions.
While the R/V Sturgeon is here, GLRC researchers will study the terrestrial fingerprint of dissolved oxygen, with Assistant Professor Amy Marcarelli (Bio Sci) as chief scientist; the Upper Great Lakes Observing System buoy mooring retrieval and redeployment, Professor Guy Meadows (GLRC), chief scientist; and the Gay stamp sands, Professor Charles Kerfoot (Bio Sci), chief scientist.
The scientific expeditions are scheduled from Saturday, June 22 through Wednesday, June 26, including two weather days. The R/V Sturgeon will return to Cheboygan on Friday, June 28.
The research vessel is the newest ship to be added to the current fleet of four research vessels operate by the USGS Great Lakes Science Center in Ann Arbor, Mich. The boats are used to conduct fisheries and aquatic research across the Great Lakes basin. The R/V Sturgeon is a 101-foot vessel with a crew of three. It can support a scientific staff of seven for up to a 15-day mission (see online).
"This is the beginning of what we hope will be a long-lasting collaboration," said Guy Meadows, director of Great Lakes Research initiatives at Michigan Tech.