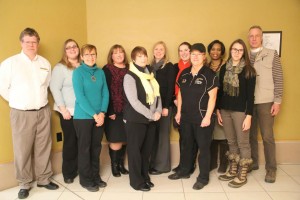 Making a Difference Award Winners Recognized
Several staff members were honored with Michigan Tech Staff Council Making a Difference Awards at an awards program in the MUB Wednesday, January 7, 2015.
Serving Others Award: Jeff Lewin (Biology)
From one of his letters of support: "Jeff is the glue to the department in making sure that research and courses offered go as planned, smoothly and safely." Jeff wears many hats: he is the chemical hygiene officer, departmental safety liaison and equipment coordinator. This is in addition to managing two greenhouses, seven instructional facilities and six common-use equipment facilities. He also assists with fundraising for the department. Jeff is always there to assist students, staff and faculty with all of their needs.