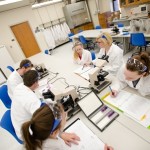 The Department now has a presence in social media on Twitter.  Please follow us @MichiganTechBio.
Or follow the link: https://twitter.com/MichiganTechBio
Xiaoqing Tang (Bio Sci/LSTI) has received a $421,652 grant from the US Department of Health and Human Services, National Institutes of Health for the research project, Role of miR-483 in Pancreatic Alpha and Beta Cells. This is a three-year project.
Dr. Werner gave a short  interview to the Michigan Radio Network discussing his research on cancer using fruit flies as a model. You can hear it below.