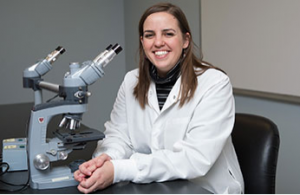 Emily Matthys recently received a national scholarship through the American Proficiency Institute (API) to help offset the cost of tuition while in her clinical practicum at the Marshfield Clinic.
According to the Medical Laboratory Observer:
"An appreciation for scientific advancements flows strongly among the winners of the 2016 American Proficiency Institute (API) scholarships. Five students enrolled in medical laboratory science programs across the United States won the awards to further their education.
"Now in our ninth year of awarding API Scholarships, I continue to be impressed with the caliber of students entering the medical laboratory science profession," said Daniel C. Edson, President of API. "This year, a number of the scholarship winners are non-traditional students. They began their studies and careers in other fields, but found the clinical laboratory enticing enough to switch course."
Ms. Matthys, who began her career as a field biologist, discovered the laboratory is where she excelled. "I think one of the most urgent issues clinical laboratory professionals will face is the spread of multi-drug resistant microorganisms," she noted. "It will be rewarding to help identify and diagnose these infections to help inform treatment."
Emily received her BS degree in Biology from Northern Michigan University and came to Michigan Technological University for a MS degree under Dr. Nancy Auer studying fisheries biology. After earning her MS degree, she took a position at Finlandia University teaching microbiology and it was there that she discovered medical microbiology and knew she wanted to pursue a third degree, in Medical Laboratory Science (MLS) at Michigan Tech. She graduated our program in December of 2015, and started her clinical practicum at the Marshfield Clinic in the summer of 2016.
Karyn Fay, the director of our MLS program, noted that "Emily was a very positive role model for younger students while at Michigan Tech and this award is well earned!" "Emily comes to the practicum with a wealth of experience," said Julie Seehafer, Ph.D., director of Laboratory Education at Marshfield Clinic. "With her technical knowledge and her leadership skills, she is likely to make an immediate contribution."
We are very proud of Emily, and wish her the best as she completes her clinical practicum and enters the field of Medical Lab Science!