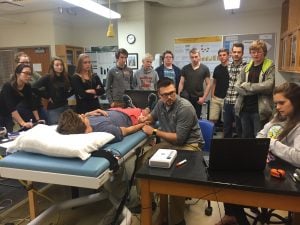 Houghton High School's Anatomy & Physiology class visited the Department of Biological Sciences and Department of Kinesiology & Integrative Physiology last week. The day began with with Alex Geborkoff (HHS teacher) and his 36 students learning how a Michigan Tech education prepares students to enter a variety of health-related fields from Dr. Shekhar Joshi and Dr. Jason Carter. Afterwards, students attended our Human Pathophysiology course taught by Dr. John Durocher. During the class they participated in a case-study related to gastritis and peptic ulcers with current Michigan Tech students. Students also got a taste a college-life by eating lunch at Wadsworth Dining Hall.
The majority of the visit was spent engaging students in hands-on lab activities that included:
Assessing arterial stiffness responses to a Wingate Anaerobic Test in Dr. John Durocher's Clinical & Applied Physiology Laboratory witht the assitance of Ian Greenlund (M.S. student) and Hannah Marti (undergraduate)
Examining human skeletal remains from our Anatomy & Physiology Teaching Laboratory with Travis Wakeham
Conducting a classic experiment comparing concentric and eccentric exercise in Dr. Steve Elmer's Exercise Physiology Laboratory  with the assistance from Lexi Herrewig (M.S. student), Mackenzie Perttu (undergraduate), and Derek Walli (M.S. student)
Measuring beat-to-beat blood pressure responses to stress with Ida Fonkoue (recent Ph.D. graduate) in Dr. Jason Carter's Integrative Physiology Laboratory
We are excited to have the opportunity to share our experiences with local students and hope to motivate them to attend college and pursue a career related to health sciences!