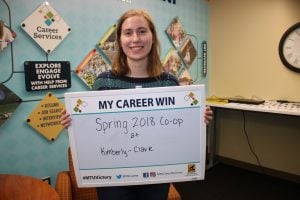 "Network with company reps as much as possible. Having that personal connection with someone… is very helpful on the job hunt." -Allison Dorn, Mechanical Engineering Student at Michigan Tech.
Allison already had an internship lined up  for Summer 2017, but she still wanted to attend the Spring 2017 Career Fair. She went with no expectations and received a co-op offer for Spring 2018- one year away.
Allison knows it's important to stay relevant, so she attends career events like industry days, employer info sessions, resume blitz, mock interviews, and the Career Fair cookout. Her goal is to brush up on her interview skills and distribute her resume.
Allison became interested in Kimberly-Clark when they hosted an event with the Society of Women Engineers.
At Career Fair, she noticed there were no students lined up at Kimberly-Clark.  She went to talk to them on a whim. Knowing she had her internship coming up, she wasn't looking for anything but a conversation. After a great conversation with a  KC rep, they wanted to interview her for a Spring 2018 co-op. Allison scheduled her interview for the following day and received an offer two days after Career Fair.
Allison advises other students to "network before career fair, during different company info sessions and at Career Services' events- so that when you get to career fair you already have established relationships."
Allison also advises students to always be prepared. She says, "The two weeks before career fair, you should have resumes on you at all times! You never know when you will have a chance to give it to a company rep!"
Written by Morgan Laajala, Communications Intern, Career Services