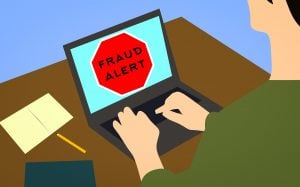 An email was recently sent to countless Michigan Tech students titled "Personal Assistant for Busy Executive."
The email reads, "My name is Mary, I found you through Michigan Tech Career Services." Then it describes a summer job opportunity with an hourly wage and potential job responsibilities.
We believe the email was sent from a fraudulent employer, and Michigan Tech's IT department has blocked all future emails coming from the sender's Gmail address.
A few students responded to the initial email to inquire about the job. However, warning signs in subsequent emails prompted these students to contact our department, and we are so glad they did!
Career Services did not give "Mary" your information.
Please be cautious when sharing personal information with employers that you don't know and be mindful that employment scams do occur, occasionally.  
Here are a few ideas to help you identify fraudulent employers:
Does the email come from a legitimate company email address?  

Free accounts like Gmail can be a red flag for fraudulence and phishing schemes.

Do they have a legitimate company website? Does it look professional?

Check the web address and make sure the website has multiple layers.

Check for a physical address associated with the company.
Does the company or individual claim to be overseas or international?

We extensively vet international job opportunities. You should, too! You can also come to Career Services and we'll help you do some research.
Other examples of warning signs in "Mary's" subsequent emails
"I don't have a LinkedIn account at this time, I will set one up on Monday."

"You will be working independently on your own from home."

"How should your name be written on the Check?"

"I am physically in Brazil right now conducting a research in the Amazon forest."
Please be on the lookout for new versions of this email and report them to IT-help@mtu.edu. When in doubt about an employment opportunity, contact Career Services! (Phone: 906-487-2313 | Email: career@mtu.edu)