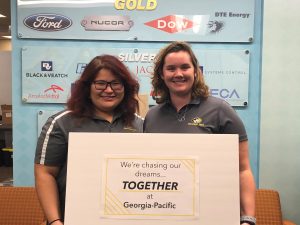 Amanda Moya and Karsyn VanLannen met on co-op in 2018 while working at Georgia-Pacific in Green Bay, Wisconsin.  
As they both prepare to graduate from Michigan Technological University in May 2020, they plan to chase their dreams together with full-time positions at Georgia-Pacific (GP) and will continue their truly amazing friendship. 
Amanda, a mechanical engineering major, had this to say about their story,  "We met during my second term with GP and Karsyn's first. I was an intern in corporate engineering and Karsyn was in mill engineering."
Karsyn, a chemical engineering major, was working in the paper mill as a process engineer.  
"When we met," Amanda says, "We hit it off right away. We were enjoying our time with GP doing intern events for engineering interns like conferences and tours."
When Amanda and Karsyn came back from co-op they decided to set up weekly lunches at Michigan Tech to catch up and see each other. "Since I'm mechanical engineering and Karsyn is chemical engineer, we don't have any classes together."
This summer Amanda and Karsyn returned to Georgia-Pacific as interns. Karsyn returned to Green Bay to work in corporate engineering and Amanda worked on paper machines in Port Hudson, Louisiana. They kept in contact over the summer and consulted with each other when they both received full-time job offers from GP.
After graduation, Karsyn will be working as a process engineer in the Green Bay Mill and Amanda will be working as a process engineer in Wauna, OR. "Together we'll be in the same Engineering Development Program cohort and will continue working together at specialized trainings several times a year. We are very excited to be working for this company and to be able to start our full time careers together!" 
It is clear that the Michigan Tech bond doesn't end at graduation. We wish Amanda and Karsyn the best in their future, and we know that they'll be successful in their endeavors.
Story by Scott Sviland