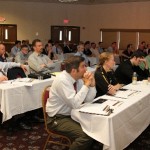 The 2012 ASISC conference held in Houghton was a remarkable success this year with people travelling from all over the world to share their
research in mineral processing. Along with presenters from industry,
Michigan Tech graduate and undergraduate students presented their latest research centered around sustainable developments for mineral processing. It provided a great networking opportunity for Michigan Tech students to meet representatives from leaders in the mining and steel manufacturing industry as well as other researchers from many other institutions.