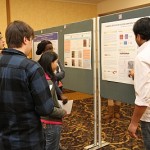 The 1st Annual Graduate Research Forum for the Department of Chemical Engineering was held on January 24, 2013.
Judges for the Oral Presentations were:
Richard Donovan – Senior Research Engineer (Chemical Engineering)
Jay Meldrum – Director (Keweenaw Research Center)
Caryn Heldt – Assistant Professor (Chemical Engineering)
Debra Charlesworth – Assistant to the Dean (Graduate School)
Awards will be announced on Friday, February 1, 2013, 12-1 in room 215 Chem Sci.
Check the webpage for photos and award announcements.