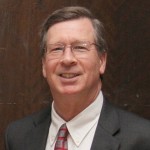 William (Bill) M. Colton, Vice President, Corporate Strategic Planning at Exxon Mobil, gave two presentations at Michigan Tech. Mr. Colton was born in Massachusetts and received his B.S. degree in Chemical Engineering from Michigan Technological University in 1975.
His first talk was about the future of energy, "The Outlook for Energy: the View to 2040," on Thursday at 135 Fisher Hall and a second talk was titled "How to Move Up in Life: What I wish someone had told me when I was 21" on Friday at the Memorial Union Ballroom. Both programs attracted large audiences and were hosted by the Department of Chemical Engineering.
Mr. Colton joined Exxon Corporation in 1975 as a Project Engineer in Exxon Research and Engineering. His career of thirty-three years has been spent in both upstream and downstream businesses throughout ExxonMobil, including project development, refining, lubes, synthetic fuels and marketing. Mr. Colton also worked in finance and planning positions, including Exxon Mobil corporate headquarters. He spent eight years overseas, first as Director of Finance and Planning for Esso Sekiyu in Tokyo, and then in Bangkok, initially as Finance Director and later as the Chairman of Esso Thailand.
Mr. Colton returned to the U.S. in 2000 when he was appointed Treasurer of ExxonMobil Development Company in Houston. He became Vice President Asia Pacific in ExxonMobil Gas & Power Marketing Company on April 1, 2002. Mr. Colton returned to the Corporation as Assistant Treasurer of Exxon Mobil Corporation January 25, 2006 – January 31, 2009. He became Vice President-Strategic Planning of Exxon Mobil Corporation on February 1, 2009.