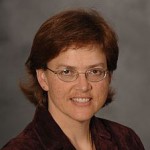 A Michigan Tech Professor has received a rare honor from a national professional society.
Faith Morrison (ChE), has received the Distinguished Service Award of the Society of Rheology. The award was presented to Morrison, who earlier this year was elected to the inaugural class of Fellows of the Society of Rheology, during the Society's 87th meeting Oct. 13 in Baltimore. She was inducted as a Fellow at the meeting in Baltimore as well.
Morrison was just the tenth recipient of the Distinguished Service Award. She was recognized for her exceptional service to the Society of Rheology. She has been active in the society for decades having chaired the membership committee and constitutional reform committee and served on other ad hoc committees. She has served as both president and vice president and on the executive committee for six years. Morrison is currently the editor of the Rheology Bulletin.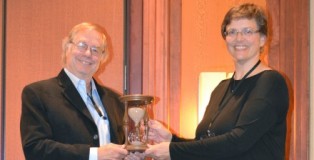 Morrison says she was "surprised" at the banquet with the award. "I am honored to have been recognized in this way. The Society of Rheology is a wonderful professional home that has given me much more than I have given to the Society. I look forward to many more years of service."
Komar Kawatra, chair of Michigan Tech's Chemical Engineering Department, says Morrison's recognition is deserved, "We congratulate Faith Morrision on this honor," Kawatra says.
Morrison has served as the Society of Rheology designee to the board of directors of the American Institute of Physics since 2013.