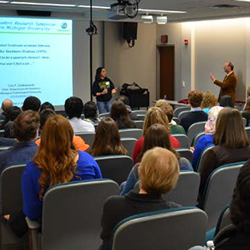 The Upper Peninsula Local Section of the American Chemistry Society invites you to the 2017 Student Research Symposium. This year's research symposium will be held on Northern Michigan's campus within the atrium of the New Science Facility on Saturday, March 25. The event starts at 9:30 a.m.
The purpose of the event is to provide a venue for students to present their research in chemistry, chemical engineering and related fields. This symposium is an excellent opportunity for students, faculty and the community at large to learn about the interesting research being conducted in the UP. More details can be found online.
You can also check out our Facebook page for more information.
All are welcome. There is no charge to attend. RSVP here.
By Robert Handler, Chemical Engineering.