Michigan Tech's Department of Chemical Engineering inducted four members into the Distinguished Academy of Chemical Engineering. All of this year's inductees are alumni of Michigan Tech.
The 2017 Inductees are: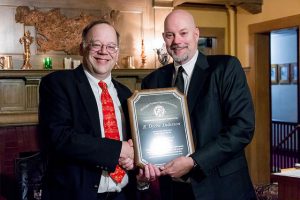 R. Dyche Anderson is a native of Wauwatosa, Wisconsin. He received is BSChE in from Michigan Tech in 1981, where he was active in such organizations as Alpha Phi Omega and the AIChE student chapter. In 1996, Dyche was hired by Ford Motor Company to work on electric vehicle batteries and in 2008, he moved into research, taking lead of the newly established research group for battery controls in Ford Research & Advanced Engineering. His present position is Technical Expert for Battery Controls & Safety. This role also involves significant consulting with product teams on battery controls, battery systems, and diagnostics. Dyche is the recipient of Ford's highest technical award, the Henry Ford Technology Award, for the development of model-based battery controls.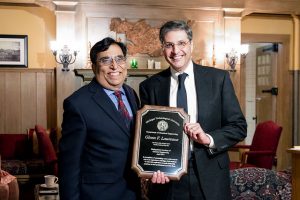 Glenn F. Lawrence earned a bachelor's degree in Chemical Engineering from Michigan Technological University in 1975. While at Michigan Tech, he was an active member of both the band / Pep band. Returning home to NJ after graduation, he achieved his goal to work for Merck & Co., a major pharmaceutical company. He held many challenging positions with increasing responsibilities at Merck & Co. within manufacturing and chemical and biologics /vaccine process engineering. In the early 1990's, Mr. Lawrence was selected to lead the process design of a very promising drug (CRIXIVAN®) for the AIDS epidemic. Mr. Lawrence has retired from Merck & Co. after 37 years of service and now is with a life science consulting firm, advising large and emerging pharmaceutical and biotechnology firms. Glenn continues to stay connected with Michigan Tech by serving on the Industry Advisory Board of Chemical Engineers and was recently inducted into the Distinguished Academy of Chemical Engineers.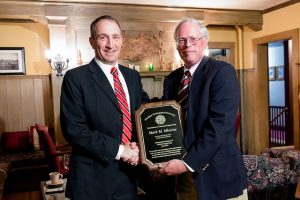 Mark M. Mleziva has worked in various research and operations roles at Kimberly-Clark Corporation for 25+ years contributing towards K-C's vision to lead the World in Essentials for a Better Life. Mark earned a Michigan Tech Chemical Engineering bachelor degree in 1992, attained a Certificate in Business Administration from University of Wisconsin-Oshkosh in 2005, and is an alumni of University of Cambridge Business and the Environment Program from 2008. Most recently as Senior Research Manager responsible for leading longer range Corporate Research & Engineering Environmental Sustainable Technology programs, innovative sustainability focused research solutions were explored, developed, and commercialized. Mark served as Chair of the Michigan Tech Chemical Engineering Department External Advisory Board, participated on Michigan Tech's Sustainable Futures Institute External Advisory Board, and was named liaison promoting important ongoing Kimberly-Clark and Michigan Tech partnership activities.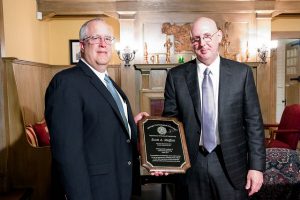 Scott Moffatt attended Michigan Tech from 1986 to 1993 where he earned a B.S. in Chemical Engineering and a M.S. in Metallurgical Engineering. Scott began his career as a metallurgical engineer in Mining Chemicals Research and Development for American Cyanamid/Cytec Industries, which was acquired by Solvay in 2015. Over the course of his 24-year career he has held different positions within Mining Chemicals R&D, Sales, and currently manages the global Research and Innovation Applications Technology Group within the Industrial Minerals business. Scott has worked in a wide range of applications in mineral processing plants and in approximately 20 countries, including regions such as Australia, South America, Europe, the Middle East, and Asia.
Ceremonies were held April 19, 2017, at the Miscowaubik Club in Calumet. Remarks were made by Komar Kawatra, Chair of the Department of Chemical Engineering, and Academy Member James Brozzo.