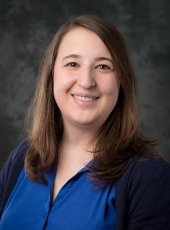 Assistant Professor of Chemical Engineering Rebecca G. Ong is named in a proposal for the Great Lakes Bioenergy Research Center. The center is one of four to receive part of the estimated $40 million in Department of Energy awards.
DOE SELECTS GREAT LAKES BIOENERGY RESEARCH CENTER FOR NEXT-PHASE FUNDING
The U.S. Department of Energy (DOE) has selected the Great Lakes Bioenergy Research Center (GLBRC) for an additional five years of funding to develop sustainable alternatives to transportation fuels and products currently derived from petroleum. The past recipient of roughly $267 million in DOE funding, the GLBRC represents the largest federal grant ever awarded to UW–Madison.
Established by the Biological and Environmental Research program in DOE's Office of Science in 2007, GLBRC is based at the University of Wisconsin–Madison's Wisconsin Energy Institute and includes a major partnership with Michigan State University (MSU).
Read more at GLBRC News, by Krista Eastman.
Department of Energy Provides $40 Million for 4 DOE Bioenergy Research Centers
WASHINGTON, D.C. – U.S. Secretary of Energy Rick Perry today announced $40 million in Department of Energy awards for the establishment of four DOE Bioenergy Research Centers (BRCs), which will provide the scientific breakthroughs for a new generation of sustainable, cost-effective bioproducts and bioenergy.
The centers—each led by a DOE National Laboratory or a top university—are designed to lay the scientific groundwork for a new bio-based economy that promises to yield a range of important new products and fuels derived directly from nonfood biomass. Initial funding for the four centers will total $40 million for FY 2018, with plans for a total of five years of funding.