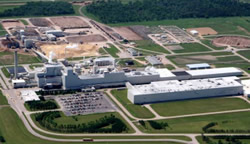 Several Michigan Tech faculty members will be on hand this week at a forum in Iron Mountain to discuss the future of the paper industry.
The Kraft Lignin Innovation Forum takes place Wednesday and Thursday (Oct. 11/12, 2017) at the Verso Quinnesec Mill, just outside of Iron Mountain.  The event is coordinated by the Michigan Forest Biomaterials Institute (MIFBI). Mark Rudnicki (SFRES), executive director of MIFBI, says the forum intends to bring researchers and companies from across Michigan, and beyond, to learn first hand the availability and opportunities surrounding residual black liquor from Michigan's largest pulp producer.
Among the Tech faculty presenting are Rebecca Ong (ChE), David Shonnard (ChE), Michael Mullins (ChE), Xingeng Xie (SFRES) and Wen Zhou (ChE).
For more information and for a complete schedule of the conference, visit here.