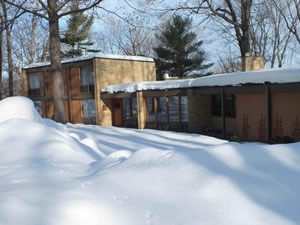 Interested in sustainable living and green architecture? Do you desire to reduce your personal impact on the earth? Come check out Michigan Tech's Sustainability Demonstration House (SDH) from 4 to 6 p.m. Thursday, Oct. 4, 2018.
Sustainable features that have been added to the house over the past year include an 8.6kW solar array system, Wifi-controlled LED bulbs, an aquaponics system, composting, waste output tracking, low-flow faucets and shower heads, induction cooktops and so much more.
The SDH team and current tenants will be at this event to answer any questions you may have regarding energy efficient housing designs and sustainable living practices. Refreshments will be served. The address is 21680 Woodland Rd, Houghton. Contact the Alternative Energy Enterprise with any questions.
By the by Alternative Energy Enterprise.