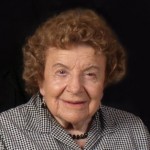 Lina Tormen Taskovich '52 studied chemistry and chemical engineering at Michigan Tech almost thirty years before Sally Heidtke, and she has some words of wisdom for women students too: "Study a field you like—you have to spend all your life working in it. And go for the top degree in the field of your choice. Also, do not go for the most lucrative job, but for the job you would love to do."
When Taskovich came to Michigan Tech, the male-to-female student ratio was about 50-to-1. Only a dozen or so women were in science and engineering. She majored in chemistry, and in her freshman class, there were eight women. Her sophomore year, there were four. During her third and fourth years, Taskovich was the only one.
For more information, read the Michigan Tech Magazine Spring 2012 article.