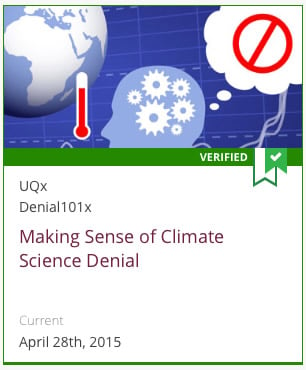 Professor of Chemistry Sarah Green was quoted by ThinkProgress about her contributions to the edX on-line course "Making Sense of Climate Science Denial."
The edX course, offered by the University of Queensland, Australia, concerns theories of climate science denial, including myths, psychological and social drivers, and the influence of climate denial on public perceptions of climate change.
Green was quoted in the ThinkProgress Climate Progress article "The Massive New Online Course That Every Climate Science Denier Should Be Very Afraid Of," stating that "educating people about facts is not sufficient." Green, who contributed four lectures to the course, said this is especially the case when political or industry groups can "bamboozle them" with easily digestible "pseudo-facts."
edX courses are MOOCs, or massive open online courses. "Making Sense of Climate Science Denial" is a free 7-week course taught by 13 instructors.