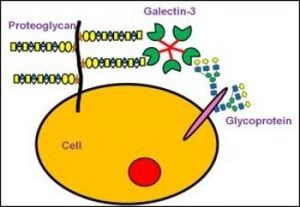 Tarun Dam led a new study, published this week in Biochemistry, examining the biomechanics of galectin-3's interaction with glycosaminoglycans (GAG) and proteoglycans. His team includes graduate students Melanie Talaga, Ni Fan, Ashli Fueri, Robert Brown and Research Assistant Professor Purnima Bandyopadhyay.
At the Laboratory of Mechanistic Glycobiology, Dam and his students study the sugar, including glucose and other structural, complex sugars, that fuel our bodies. GAGs assist in controlling growth factor proteins, which go unchecked as cancerous tumors grow.
Even though the findings of the study were unexpected, it opens up new possibilities for understanding glycobiology and biomechanics. "Seeing galectin-3 interact with GAGs and proteoglycans is like finding a rose in the petunias—it's very unexpected," Dam says. "It's fair to say that this requires revisiting the reported biological functions of GAGs, proteoglycans and galectin-3."
Next, Dam and his team look into additional research, "Now we have to reconsider the whole drama, retracing the steps and actions of that character… we are using cell lines and animal models to study this interaction in a cellular context."
Read more on Michigan Tech News, by Allison Mills.