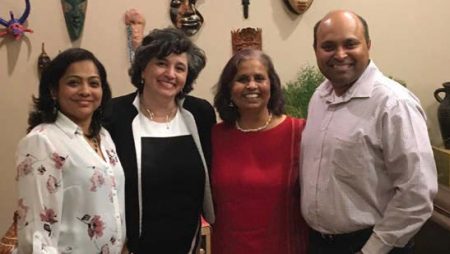 Students got an unexpected treat at the department's annual awards program this year, held on April 24 in the Memorial Union Building's newly remodeled alumni lounge. Three PhD recipients from the department shared some of their experiences, funny stories, and words of wisdom before the student awards were presented.
Special guest of honor was Laura Barrientos, who earned her PhD under the mentorship of Professor Pushpa Murthy in 1995. During her career as a biochemist and structural biologist, she has conducted research at the National Institutes of Health and Centers for Disease Control and Prevention. Currently, she is owner and founder of Premier Drug Screening, LLC, and owner and president of IntelliGenetics, LLC, headquartered in Atlanta, which is the only AABB-accredited DNA-based relationship testing laboratory in Georgia and surrounding areas authorized to perform biological relationship testing for the US State Department.
After sharing stories of her time at Michigan Tech and some of the exciting stops on her career path, Barrientos offered some advice to the students:
• Set your vision
• The career path is yours and unique. Do not compare it with anyone else's
• Always leave the doors open
• Reputation is important—guard it
• Writing skills future-proof your careers; polish this crucial skill while in graduate school
• We are in the 21st Century—remember that! Interacting with technology is no longer a choice. In addition to the skills you are learning in a science program, learn basic computer programming
• When it's time for change, it is an opportunity to test your character and your decision-making skills. After all, what matters the most is what you ended up doing next
• Think forward, never look back
By chance, Parag Jog and Sonali Jog also visited the department that week and were able to attend the awards program, along with their son, and also briefly shared some highlights of their careers after leaving Michigan Tech. Parag and Sonali both earned their PhDs in 2005. Parag, who worked with Professor Dallas Bates, is a project management consultant with Integrated Project Management® in South San Francisco. Sonali, who worked with Professor Pushpa Murthy, is a technical support scientist with bio-techne® in Newark, California.