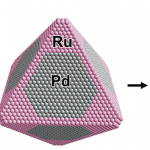 Deposition followed by etching yields ruthenium nanoframes
Michigan Technological University chemists Xiaohu Xia and Haihang Ye, together with researchers at the University of Texas, Dallas, and elsewhere used a ruthenium chloride solution to preferentially deposit ruthenium on the edges and corners of nanosized palladium octahedral seed crystals.
Read more at Chemical & Engineering News, by Mitch Jacoby.
A Noble Calling: Ruthenium Nanoframes Open the Doors to Better Catalysts
The world is run by catalysts. They clean up after cars, help make fertilizers, and could be the key to better hydrogen fuel. Now, a team of chemists, led by Xiaohu Xia from Michigan Technological University, has found a better way to make metal catalysts.
"We are fine-tuning the surface, size, shape and crystal structure," he says. "Our goal is to increase their catalytic activity while reducing the usage of this precious material."