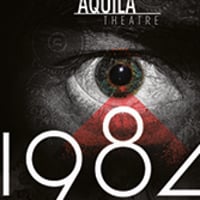 The Rozsa Center For the Performing Arts presents a powerful theatrical production of George Orwell's "1984" — an evocative and timely cautionary tale of personal freedom against political repression.
Today, Orwell's story resonates around the globe as individuals, systems and governments clash. Join us for "1984," by New York City's Aquila Theatre, followed by a post-show discussion of how Orwell's narrative eerily predicted today's unprecedented challenges to privacy, truth, and personal expression.
See "1984" at 7 p.m. Friday (Nov. 8) at the Rozsa Center. Panelists include guest lecturer Marika Pfefferkorn, and Michigan Tech's Alexandra Morrison (HU), Linda Ott (CS), and Laura Brown (CS) and will be moderated by Stefka Hristova (HU). Light refreshments will be served. The discussion is expected to run approximately 45 minutes after the show.
Written in 1944 near the end of World War II, "1984" depicts a society controlled by a perfectly totalitarian government bent on repressing all subversive tendencies. "Big Brother" is always watching and technology is wielded as a weapon to inundate citizens with propaganda and to monitor thoughts and actions. Imagined before the existence of computers, this dystopian future explores the power of technology as a mental manipulator and source of curated information.
This event is made possible with funding from the Michigan Council for Arts and Cultural Affairs and the Crane Group. Tickets to "1984" are Adult: $22.00, Youth: $10.00, and Michigan Tech Students at no charge with Experience Tech Fee, and are available by phone, (906) 487-2073, online, in person at the Central Ticketing Office in the Student Development Complex, or at the Rozsa Box office the night of the show.