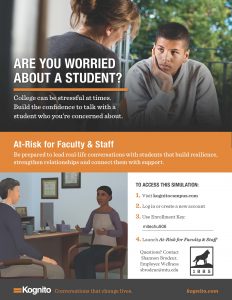 College can be stressful at times, and Michigan Tech wants to empower our faculty and staff with resources they need to assist students. Be prepared to lead real-life conversations with students that build resilience, strengthen relationships and connect them with support.
We're excited to present the Kognito simulation At-Risk for Faculty & Staff course, which will help in recognizing signs of distress, determining if a student needs help, how to talk to a student in need of help and where to direct students for further resources. It can be difficult to deal with these kinds of issues, but an effective conversation can help more than you think—it can help change someone's life. 
As faculty and staff, we can take small steps that make a big difference. We hope you enjoy this simulation, as we all work together to help one another and build a stronger community. At-Risk for Faculty & Staff lets you practice these challenging conversations at your own pace through role-play with virtual students.
Use the Michigan Tech key to open a free account and take the simulation. It can be completed in multiple sittings and your progress will be saved.
Questions? Contact Shannon Brodeur.