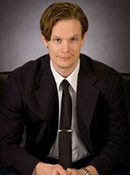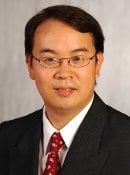 by Michael R. Meyer, Director William G. Jackson CTL
In this week's showcase, School of Technology Dean Adrienne Minerick would like to recognize Todd Arney, Guy Hembroff and Yu Cai  for their collaborative, creative efforts in developing a new course: SAT 4411 Data Center Engineering.
Along with former faculty member Xinli Wang, the three responded in Fall 2014 to a request from the Computer Network and Systems Administration (CNSA) Industrial Advisory Board to provide students with more exposure and practical hands-on experience with virtualization, cloud computing and data center engineering for both physical and virtual data centers.
Topics included in the course during initial planning included data center planning, disaster recovery, virtualization methods and cloud computing services that provide business continuity,
The class was first offered in Spring 2016 and was co-taught by Hembroff, Arney and Wang. The original idea was to devote one third of the class to data centers, one third to virtualization and a third to cloud computing.
Labs included tours of data centers both on and off campus and detailed discussions with data center managers. Students responded positively to seeing the real-world data centers and getting information directly from data center technicians and professionals in several different fields related to data center engineering.
From Tech Today, February 22, 2019