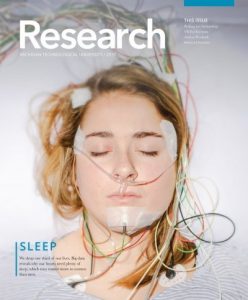 Published in March 2019
The following ICC members were recognized in the 2019 Research Magazine for receiving National Science Foundation Faculty Career Awards: Sumit Paudyal ("Operation of Distribution Grids in the Context of High-Penetration Distributed Energy Resources and Flexible Loads"), Ye Sun ("System-on-Cloth: A Cloud Manufacturing Framework for Embroidered Wearable Electronics"), and Keith Vertanen ("Technology Assisted Conversations"). Read the full article here.
Keith Vertanen and Scott Kuhl's research into the development of a mid-air virtual keyboard by mounting a hand-tracking device on a VR headset was featured in the article, "Ready User One." Read the full article here.
The Research in Brief section included Keith Vertanen's Alzheimer's research, "H-STEM Engineering and Health Technologies Complex;" and Robert Pastel's Keweenaw Time Traveler map and the Copper Country Historical Spatial Data Infrastructure. Read the full article here.