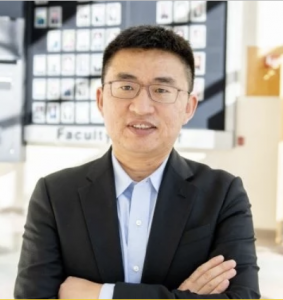 by Allison Mills, University Marketing and Communications
Smart traffic is more than self-driving cars. One engineer is tackling these transportation systems with an early career award grant from the National Science Foundation (NSF).
Changing lanes, upcoming merges, blind spots — wouldn't it be great to broadcast to other vehicles what your own car is doing and where? Well, the technology does exist, and the data-rich messages in vehicle-to-vehicle communication are less salty than the ones exchanged in human languages. But the technology needs more development before it's ready for rush hour.
Kuilin Zhang explained the challenge is forecasting traffic, which is inherently uncertain. Zhang, assistant professor of civil and environmental engineering and affiliated assistant professor of computer science at Michigan Tech, is a recipient of an NSF CAREER Award to improve automated driving decisions using predictive, real-time feedback within and between vehicles. The project totals $500,000 over a five-year span and puts some of Michigan Tech's prime mobility testing facilities to use.