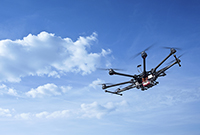 Researchers:
Colin Brooks, PI, PhD Student, Biological Sciences
Timothy Havens, Co-PI, William and Gloria Jackson Associate Professor of Computer Systems
Kuilin Zhang, Co-PI, Assistant Professor, Civil and Environmental Engineering
Richard Dobson, Co-PI
Tess Ahlborn, Co-PI, Professor, Civil and Environmental Engineering
A. Mukherjee, Co-PI, Associate Professor, Civil and Environmental Engineering
Sponsor: Michigan Dept. Transportation (MDOT)
Amount of Support: $598,526
Abstract: As unmanned aerial vehicle (UAV) technology has advanced to become more capable at lower cost, it offers transportation agencies a more rapid and safer alternative to collect data for a variety of applications, including condition assessment, traffic monitoring, construction, asset management, operations, and other applications. Through successful research, development, and demonstrations during Phase 1 of this project, the Michigan Tech team was able to test multiple sensors on a Michigan-made multirotor UAV platform, along with other UAVs, enabling the collection of data types such as optical light detection and ranging (LiDAR) and thermal to achieve a detailed view of a bridge deck both on the surface and subsurface. These methods were developed to represent the type of data collected through Michigan Department of Transportation (MDOT) manual inspections. Further development of UAV technology for the use of transportation infrastructure assessment is required in order to fully implement these technologies into MDOT day-to-day operations. By successfully continuing UAV research and development for MDOT, the Michigan Tech team will produce practical applications of large datasets that will support MDOT's business models and decision making processes.