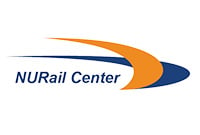 Researchers:
Pasi Lautala, PI, Associate Professor, Civil and Environmental Engineering, and Director, Rail Transportation Program, Michigan Tech Transportation Institute
Timothy Havens, Co-PI, William and Gloria Jackson Associate Professor of Computer Systems, and Director, Institute of Computing and Cybersystems
Philart Jeon, Co-PI, Adjunct Associate Professor, Computer Science and CLS
Paul Sanders, Co-PI, Patrick Horvath Endowed Professor of Materials Science and Engineering
Sponsor: US Department of Transportation / RITA
Amount of Support: $299,966
Abstract: The National University Rail (NURail) Center is a consortium of seven partner colleges and universities offering an unparalleled combination of strengths in railway transportation engineering research and education in North America. The NURail Center is the first USDOT OST-R University Transportation Center dedicated to the advancement of North American rail transportation. The Center is headquartered at the University of Illinois at Urbana-Champaign and includes researchers and educators who are experts and national leaders in railway infrastructure, systems and vehicles from seven prestigious academic institutions in the United States.