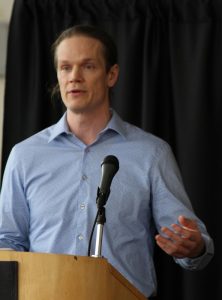 Guy Hembroff, College of Computing associate professor, director of the Health Informatics graduate program,  and director of the Institute of Computing and Cybersystem's Center for Cybersecurity, was an invited speaker at Medfuse '19, held in Minneapolis, MN, on October 24, 2019. Hembroff's presentation  was titled "Treating the patient holistically and securely." He also served on the conference panel, "Internet of Medical Things (IoMT) Security."
Presentation Abstract: We propose a holistic mHealth community model for residents to overcome significant barriers of care and improve coordinated patient health intervention by integrating multiple health and safety data sources through a mobile digital personal health library application. AI algorithms strategically connect residents to community resources and provide customized health education aimed at increasing the health literacy, empowerment, and self-management of the user. Users are able to securely share their health data with others (e.g. physicians, caregivers). Clinicians can better track patients offering improved preventative measures and care management. The architecture's security includes a touchless biometric feature, capable of large-scale identity management using a novel fingerprint algorithm to establish a unique health identifier (UHID) for each individual, with the use of facial-recognition as a secondary form of validation prior to a user viewing patient data. Standard smartphones and web cameras are utilized in the identify management process where the application is installed.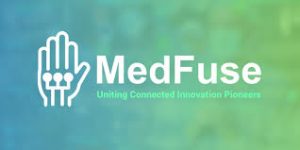 The MedFuse conference focuses on advancing Medical IoT (IoMT) devices and exploring the future healthcare implications of Health Informatics.