We are looking forward to celebrating the accomplishments of our graduates at a Class of 2020 virtual Convocation program on Friday, December 18, 2020, at 3:30 p.m. EST.
The celebration will include special well-wishes from CC faculty and staff, and many will be sporting their graduation regalia. It is our privilege to welcome Ms. Dianne Marsh, 86, '92, as our Convocation speaker. Dianne is Director of Device and Content Security for Netflix, and a member of the new College of Computing External Advisory Board.
We may be spread across the country and world this December, but we can still celebrate with some style. We look forward to sharing our best wishes with the Class of 2020 and wishing them continued success as they embark on the next phase of their lives!
This December, 40 students are expected to graduate with College of Computing degrees, joining 92 additional Class of 2020 PhD, MS, and BS alumni.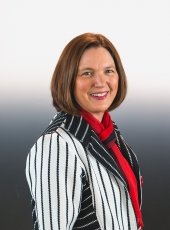 Dianne Marsh '86, '92 is Director of Device and Content Security for Netflix. Her team is responsible for securing the Netflix streaming client ecosystem and advancing the platform security of Netflix-enabled devices. Dianne has a BS ('86) and MS ('92) in Computer Science from Michigan Tech.
Visit the Class of 2020 Webpage
Congratulations Graduates. We're proud of you.