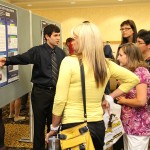 Undergraduate Students from Community Colleges are engaged in university research projects at Michigan Technological during Summer 2012: MiCUP program stands for Michigan College/ University Partnership Program. It is for Community College Students from: Delta College, Grand Rapids Community College, Wayne County Community College District.
"MICUP = My Cup. My cup of knowledge that was filled with diversity, higher education, innovation, and hands-on experience. From this experience, I have grown culturally, educationally, and mentally" according to Reginald Hicks, Michigan Tech Marketing Student, WCCCD Transfer Student.
MiCUP is Michigan Tech's "Transfer Transition Program" helps community college students transfer to a four-year institution to earn a baccalaureate degree.
Page of pictures from the 2012 MiCUP Student Projects