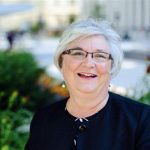 A great opportunity for Pre-Health students to connect with professionals and gain valuable insight into physiology.
The fifth annual meeting of the Michigan Physiological Society will be held on the Michigan Tech campus tomorrow and Friday (June 14-15) with some activities starting today.
The event features lectures, poster presentations and break-out sessions by and for physiology professionals from throughout the state. Friday's teacher workshop is open to local teachers and students and is free of charge.
Things get started at 4 p.m. today with the Michigan Physiology Quiz (MiPQ). Five student teams from Alma College, Ferris State, Michigan State, Wayne State and Michigan Tech will compete. Questions will cover a range of topics—cardiovascular, neural, renal and respiratory physiology—presented in a Jeopardy-style format.
This year's keynote speaker for both the annual meeting and the teacher workshop is Virginia Miller, professor of surgery and physiology and director of the Women's Health Resource Center at the Mayo Clinic in Rochester, Minnesota. Her presentation "Sex-specific Risk for Cardiovascular Disease" will take place at 3:30 p.m. tomorrow in Memorial Union Ballroom A.
On Friday the meeting includes the Life Sciences Teacher Workshop. Registration begins at 7:30 a.m. with the teacher workshop starting at 8 a.m.The workshop, which is also open to area high school students, includes lab tours and breakout sessions featuring several Michigan Tech staff.
Miller will also deliver the keynote for the teacher workshop "Sex as a biological variable—what you need to know," at 11:30 a.m. in the Memorial Union Alumni Lounge. Following the address, high school students and teachers will join Miller for lunch in the Ballroom.
A  complete schedule of the meeting is available here.