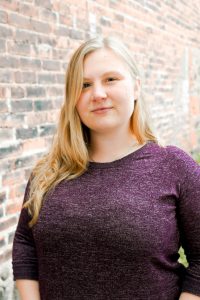 I was sitting in my car outside the dentist's office, wondering how on earth I was supposed to call my mom and about 5 others with only 3% battery. I had just opened the email telling me I had a conditional acceptance to MSU's College of Human Medicine for August 2019, and I was overwhelmed with emotion. I did it, I couldn't believe I really did it.
Growing up, I always knew I wanted to be a doctor. I began shadowing at a young age and I soon noticed many obstacles our town faced from being medically underserved. The more I saw and learned, the more I knew I wanted to work in rural and underserved areas as a physician. This realization is what drew me to MSU, as part of Michigan State's mission for CHM is to train dedicated doctors that will return and practice in underserved areas. For me, MSU was a perfect fit, and it seemed my aspirations met their criteria as well. I decided to apply through the Early Assurance Program (EAP), as it would be a great opportunity to show that my goals were aligned with theirs. Some of the positive aspects of the EAP application is that they have a preference for Michigan residents who are first-generation college students, graduated from low-income schools, and lived in medically underserved areas. I fit all of this criteria, which in combination with their mission, made the EAP seem like an opportunity I could not pass up.
I majored in Biological Sciences with a concentration in Pre-Medicine, so the majority of what I studied was MCAT orientated. I personally knew many doctors and medical students whose major was not geared towards the health professions and had a bachelor in Art, Norwegian Culture, and Religious Studies. However, I chose Biological Sciences not just because I felt it would help me prepare for the MCAT, but also because I loved the subjects I would be studying.  
When I was first looking at colleges as a high school senior, Michigan Tech was not my first choice. Now I know it's exactly where I needed to be as Michigan Tech had many different resources and options that would allow me to succeed. Medical schools need to see that you've had experiences that have cultivated skills and assets that you'll need in the medical field. This puts an enormous pressure on students to have everything; research, volunteer, shadowing, health-related jobs, teaching, lots of involvement in multiple organizations with leadership positions in those organizations, all on top of a stellar GPA. It's helpful to keep in mind that most of these are guidelines and that anything that has meaning to you can be used to show others how it has helped to mold you into a well-rounded individual.
I will always be grateful for the bonds I have made at Michigan Tech and the experiences that have helped to shape me into the person I am today, and I am so excited to begin the next part of my journey.
Experiences are about quality, not quantity, and Tech is able to offer both. There many different Student Organizations available at Michigan Tech so that you can be involved and do something you enjoy. Also, the shadowing program Nicole, our Health Professions Coordinator, has set up with Portage and Aspirus makes it easy to build physician shadowing hours. There are always notifications for volunteer opportunities, as well as many resources to help you succeed in class, such as Learning Centers. Michigan Tech is full of above-average professors and teachers that always have their doors open to students, and there are many options to those who are interested in pursuing research such as working in labs, volunteering as a participant, or applying to conduct research of your own.
I worked 30 hours a week the entirety of my college career and worked overtime during breaks and holidays. Although I was not involved in as many activities and organizations as I would have liked, work was filled with many experiences that helped to build character and skills that are necessary for the health professions and everyday life, even if the work I did was not directly health related. I invested my free-time in organizations that I really felt I was making a difference, such as MEDLIFE, Pre-Health Association at Tech (PHAT), and later the AED Pre-Professional Honor Society. All these things and more gave me the opportunity to grow as an individual and gain experiences that helped to shape me and allow me to be successful.
The Pre-Med journey has not been an easy one, but it's not supposed to be. Every stressor is an opportunity to condition and better yourself for the future. In terms of tips or advice, I have quite a bit from my own experiences. With every opportunity to succeed, there will also be the possibility of failure, so if you fall short, don't make excuses for yourself. Instead make an effort to re-evaluate, learn, and then try again.
Take the time to talk to your advisors, professors, and Nicole, because they are all trying to help you succeed and they all know what they are doing. Begin studying for the MCAT early, and surround yourself with people who have the same drive and determination as you do, as it really helps to have that support from your peers. Last of all, do not let someone decide your future or discourage you. As I said before, it's a hard road ahead, and there will always be those who don't think you will cut it. You determine your own goals and means of success, and you do not need to be a cookie-cutter applicant to be successful. Never let there be a time where you ask yourself "what if I had…", and instead, do everything possible so that you know you did your best.