NEWS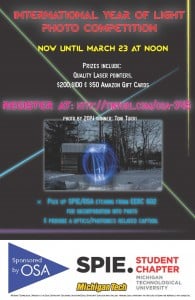 1. Photo Competition
SPIE/OSA will be hosting a photo competition with a chance to win $200, $100, and $50 Amazon gift cards from now until March 23.   To be eligible for this competition you must signout an SPIE/OSA etching from EERC 631 and have it visible in your photo submitted. Etchings must be returned for eligibility into the contest. Limit 2 photographs per contestant. Photos must be emailed to mjbrisen@mtu.edu before March 23 @ noon with a photonics/optics caption.   Grading will be based on: originality, creativity, photonics/optics theme, and voting.
Register at http://tinyurl.com/OSA-345. Please contact Michael Briseno (mjbrisen@mtu.edu) with any questions.
---
2. Volunteers Needed to Bake and Package Cookies
Don Peryam & The Sanders Club are looking for help baking & boxing up more than 1000 Cookies for the local nursing homes.  Baking & boxing will take place at Finlandia Hall (next to the Paavo Nurmi center) starting at 11:00 am on Tuesday, March 3. Any questions call Don Peryam at 906-483-4701. All are welcome!
---
3. Reminder: Outdoor Adventure Program is Now Hiring for Summer, Fall, and Spring
Looking for an awesome job on campus? The Outdoor Adventure Program is now hiring positions for Summer, Fall, and Spring! We are looking for enthusiastic, driven individuals with a background in the outdoors and a passion to share that with others. Fill out an application by following the link: http://www.mtu.edu/student-activities/oap-wellness/theoap/
Applications are due March 6.
---
4. REMINDER: Student Leadership Awards Deadlines
The Student Leadership Awards are open for nominations. Deadlines to keep in mind are as follows:
Presidents Award for Leadership, Vice President for Student Affairs and Advancement Award for Service, and the Percy Julian Award deadline for nominations is Friday, March 6 at 5:00 PM.
Exceptional Community Service Project, Exceptional Enthusiasm as a Student Leader, Student Organization of the Year, Exceptional Program of the Year, Clair M Donovan, Student Employee of the Year, Student Organization Advisor of the Year, Most Improved Student Organization, Rising Star of the Year, Exceptional Leadership in Student Governance, and Outstanding Future Alumni deadline for nominations is Friday, March 20 at Noon.
Please visit the website to make your nomination today! Please contact Student Activities if you have any questions regarding these awards.
---
ENTERTAINMENT & ENRICHMENT

5. Khana Khazana Featuring Egyptian Cuisine
Khana Khazana, a weekly international lunch will feature Egyptian cuisine this Friday, February 27 cooked by Marwa Hefny, student of the Physics department at Michigan Tech. The main dish is Kushari. This healthy dish is made of rice, macaroni and lentils mixed together and topped with a tomato-vinegar sauce, garnished with chickpeas, and crispy fried onions.
The second dish is Baladi Salad. The most common salad of Egypt made of tomatoes, cucumbers, dill, parsley, jalapenos, and seasoned with lemon juice. For dessert, Roz bi haleeb. A traditional Arabic recipe for a sweet rice pudding flavored with rose water and garnished with pistachios , raisins and almonds.
Serving is from 11:00 AM to 2:00 PM in the MUB Food Court. The whole meal is $6.95 and includes a fountain soda or $2.50 for each item.
---
6. Film Board Showing, Into the Woods
This weekend, Film Board will be showing Disney's Into the Woods in Fisher 135.
Showtimes are Friday, February 27, at 5:30, 8:30, and 11:30 PM Saturday, February 28, at 2:30, 5:30, 8:30, and 11:30 PM Sunday, March 1, at 2:30 and 5:30 PM. Tickets are $3. Candy, popcorn, and soda are all $1 each.
For the next two weeks during the Spring Break holiday there will be no movie showings and three weeks from now we will be the showing of Interstellar.
---
7. Macbeth comes to the Rozsa
The Acting Company, the renowned off-Broadway theater company in its 42nd national tour, brings a new production of William Shakespeare's Macbeth to the Rozsa Center for the Performing Arts on Monday, March 16th, 7:30 PM. The Acting Company premiers Macbeth on the Guthrie Theatre stage in mid-February, then will tour nationally. The tour will then head to New York for two weeks at Off-Broadway's Pearl Theater April 1-12.
---
8. Michigan Technological University's Superior Wind Symphony at the Rozsa 
Michigan Technological University's Superior Wind Symphony, under the direction of Mike Christianson, will perform a concert at the Rozsa Center on Saturday, February 28, 2015, at 7:30 PM, titled "II: Day Into Night: II," that presents music for winds that deals with the ideas of night, day, moon, and light. Listeners will find it perfect for the deep midwinter time in the UP. Christianson describes the performance as a mirror of the beauty to be found in spite of the harsh winter elements, "Morning, noon, night, winter, storm, moon, sunshine, primeval heavenly light, and eternal darkness. Music to remind that darkness too, can contain beauty, and light is something we can look forward to.
---
9. Indian Student Association Hosting Holi Night 2015
Indian Students Association is here with the biggest event for Spring. We bring you delectable Indian food  and performances at the Holi Night 2015. Come join us in the celebration on February 28, 2015 from 7.00 pm – 
9.00 pm
– dinner social at Memorial Union Ballroom. Our chefs,performers and volunteers – are gearing up already and ISA at Michigan Tech looks forward to having you at the event. Grab your calendars and mark it now! "
Ticket prices, inclusive of dinner and performances:
  – General Public – $7
– ISA Members – $4
Get your tickets NOW!! Tickets on sale at the MUB promotion desk 11 – 2 pm.
---
MEETINGS/WORKSHOPS
10. Spring 2015 Academic Success Workshops
Waino Wahtera Center for Student Success is hosting Academic Success Workshops. All sessions are at 5:00 PM in Admin 404 unless otherwise noted. Registration not required. (For groups sending more than 5 participants, please contact hsimpson@mtu.edu.) Tuesday, March 24: Testing, testing: 1, 2, 3, 4 (second offering) Do you ever feel like you know the course material but can't translate it to a successful exam grade? Learn effective preparation and test taking strategies.
---
11. HuskyLEAD Series – 

The Green Perspective: Learning Energy Saving Habits
The next HuskyLEAD will be held on 
Tuesday, March 3, 2015 at 6:00 PM
 in the Memorial Union Building Ballroom B2 & B3.  The topic will be "The Green Perspective: learning energy saving habits." The presenters will be students from the Green Campus Enterprise.  Participants will learn energy saving habits to save money at home and in the work place.
HuskyLEAD is a series of hour-long professional development workshops geared toward student organization leaders. The sessions are free of charge and all students are welcomed and encouraged to attend. Students who have attended 4 or more HuskyLEAD workshops during Spring 2015 will be entered into a prize drawing.  Be sure to pick up your HuskyLEAD punch card at Tuesday's session!  If you have any questions about HuskyLEAD, contact Maryann Wilcox, coordinator of student activities, at 906-487-2402 or mawilcox@mtu.edu.
---
12. Reminder: Student Commission Meeting
Ever notice something about Michigan Tech that could be improved? Have you had a great idea that would have a positive effect on other students? If yes, you are invited and encouraged to join us at the Student Commission meetings. We look to break down the barriers that impede student's success, and to improve Michigan Tech's campus environment.
You'll get the chance to have your ideas heard by staff, faculty, university officials, and most importantly other students. We work together to act on your idea and make changes. Past accomplishments of the Student Commission include:
Library Project – The Student Commission received regular updates from Library staff during their 2013-14 project. The Library responded to Student Commission concerns and implemented ideas/suggestions
Transportation Services/Facilities Management Updates – Facilities Management is regularly invited to the Student Commission to provide updates, information, and answer any questions the group may have.
Tobacco Free Campus – The tobacco free campus policy was instituted in the 2013-14.
Michigan Tech App – Improvements (open computers and Dining Hall menus) for the Michigan Tech App have been suggested and completed.
Shuttle Service – Collaboration with Facilities Management to improve shuttle service for students
Student Commission Website – a website has been created
USG and GSG Chairs – The Vice Presidents from USG and GSG will co-chair meetings with the Vice President for Student Affairs
Services in Dining Halls – Addressed and resolved issues of services available in dining halls
Sustainability on Campus – Recycling continues to be improved and expanded on campus
Value Statement
Relocation of Broomball Rinks
Designated Memorial Garden
Princess Point Rehab and Upgrade
Experience Tech Fee Initiative
Anyone is welcome to attend upcoming meetings. Please check out the Student Commission website for more information.
2015 Spring Meeting Dates
Thursday, March 26, 2015, 2:00 pm, MUB, Alumni Lounge A
Thursday, April 9, 2015, 2:00 pm, MUB, Alumni Lounge A
Thursday, April 23, 2015, 2:00 pm, MUB, Alumni Lounge A
---
SPORTS NEWS
13. Intramural Sports – Upcoming Deadlines and Events
Team Sports Entry Deadline:
Volleyball (W & M) – March 4 @ 5PM
Upcoming Event:
Soccer-Tennis (W,M & Co-Rec) – February 28 @ 12PM
For more information check us out online or email Craig Pellizzaro at crpelliz@mtu.edu
---
14. Community Programs Step Boxing & Ease Into Meditation Workshop
Community Programs brings to you two great ways to get "HuskiesFit" this weekend!
If you like kickboxing and step aerobics, you're going to LOVE our Step Boxing Step Boxing Series! Miss the first few classes? No problem! You can pay as you go, so jump right in! The class meets this Sunday, March 1, from 1:00-1:50 pm at the SDC Studio.
Looking to try something different? Explore the benefits of relaxation and meditation at the 
Ease into Meditation Workshop
 this 
Sunday, March 1
, from 
6:00-7:20 pm
 in the SDC Studio
---