ENTERTAINMENT and ENRICHMENT

Student Activities June Events
Check out all the exciting events we are hosting in the month of June! The Outdoor Adventure and Wellness Programs are outdoing themselves with adventure as we roll into summer.
For more information on these events please contact the OAP at 906.487-2290 or call Student Activities at 906.487-1963.
---

High Ropes Experience Hosted by OAP
Join in the fun at the High Ropes Course at the Tech Trails on Saturday, May 30. Participants will get the opportunity to experience the thrill of our unique adventure, High Ropes. The cost is only $5.00!
For more information please contact OAP at 906.487-2290.
---
Intro to Mountain Biking Hosted by OAP
Try out the Tech trails , in the Keweenaw on June 2 at 6:00 PM! Get detailed instruction on how to start mountain biking, along with the gear and basics for doing it on your own. The cost is 1/2 off a regular bike rental or free if you have a bike
Participants will meet at 6:00 PM at the Outdoor Adventure Program, 207 East Street.
For more information please contact the OAP at 906.487-2290.
---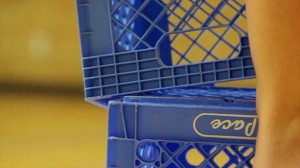 Open Crate Stacking Event Hosted by OAP
On June 3 from 7:00 PM to 9:00 PM, participants will challenge themselves by stacking crates, which sounds easier than it actually is. Compete against yourself and others to see who can stack the most crates.  The cost is $5.00 per person. Participants will meet at the Tech trails, by the high ropes challenge course. For more information please contact the OAP at 906.487-2290.
---

Paddle Board and Kayak Demos Hosted by OAP
On June 4 from 2:00 PM to 4:00 PM, participants will learn paddling basics and get a chance to put their newly learned paddling skills to use. Participants can meet the OAP staff at Prince's Point. There is no cost for this event. For more information please contact the OAP at 906.487-2290.
---
Khana Khazana Features Thai Cuisine
This weeks Khana Khazana food trailer will feature Thai cuisine. Pad Thai — fistfuls of small, thin noodles dropped into a searing hot wok for a steamy minute long dance alongside crunchy bean sprouts, onion and egg. A truly interactive eating experience, half its fun and flavor lies in the quartet of accompanying condiments — fish sauce, sugar, chili powder and finely ground peanuts. Choose from shrimp, chicken or tofu.
---
WELLNESS
Dog Therapy at Outdoor Recreation and Wellness Center
Get your healthy dose of dog with Jade and Molly. Come over to the Outdoor Recreation and Wellness Center on Tuesday, June 2  from 1:00 – 3:00 PM. For more information contact Whitney at 906-487-2560.
---
EXPO'S and WORKSHOPS
The Red Bead Experiment: Dr. Deming's Classic Quality Management Workshop
Michigan Tech's Office of Continuous Improvement is pleased to present the Red Bead Experiment, a workshop developed by Dr. W. Edwards Deming and delivered by Jim Manley, the Managing Director for the Demmer Center for Business Transformation at the Eli Broad College of Business at Michigan State University. Jim learned this workshop from Dr. Deming himself. Dr. Deming used the Red Bead Experiment to clearly and dramatically illustrate several points about common management practices. It provides a simple yet powerful message about how success is directly tied to and limited by the nature of the system one works within.
Jim Manley is the Managing Director for the Demmer Center for Business Transformation and the Chair of the Michigan Lean Consortium. He's worked for General Motors, Delphi and Faurecia and had the rare opportunity to study with Dr. Deming and learn lean "hands on." He also worked as an adjunct faculty member at Eastern Michigan University, teaching courses on lean manufacturing and statistical process control. During his career with Delphi, Jim coached teams in 29 countries as they implemented lean into their plant operating system. Jim received the Delphi Corporate Lifetime Lean Achievement Award in 2005.
Jim will be available after the workshop if you'd like to talk with him. He'll be at Michigan Tech on 
June 9 and 10
. Please contact 
improvement@mtu.edu
 if you'd like to set up a separate meeting with him.
This event is free and open to the public. It will be held on 
Tuesday, June 9
, from 
12:30 to 3:30
 in the Memorial Union Building Ballroom B1.
---
Register Now – Tech Expos for Summer Youth Programs Students
During the weeks of June 22-28 and July 6-12, Summer Youth Programs will be hosting three of our main scholarship summer camps: Women in Engineering (WIE), Engineering Scholars Program (ESP), and Women in Computer Science (WiCS).  As part of these camps, we host an expo about all things Michigan Tech.  This expo includes representatives from many student organizations, campus departments, Enterprise teams, and club sports.  The expos are on June 24 and July 8 from 4:00 – 5:00 pm in the MUB Ballroom.
The purpose of the "Tech Expo" is to give these bright students a feeling of what life is like at Michigan Tech.  All of the participants have applied and been accepted to the program based on academic performance, extracurricular activities, and teacher recommendations — they are very driven and interesting young people!  WIE and WiCS are entirely female camps (a total of around 180 women), and ESP welcome 150 students (both male and female).
If you or someone else in your organization is here for the summer and would be interested in hosting a booth, please fill out the information below.  Last year we hosted several dozen tables, and we are striving to make this year's Expo the best yet!  If you have any questions about the event or our programs, please feel welcome to contact Liz Fujita (liz@mtu.edu).
To register for the Expos, please fill out this short form by June 12:
---