HEALTH AND WELLNESS

Group Fitness Instructors Needed
Love fitness? We do too! Michigan Tech Community Programs is looking for group fitness instructors that are as passionate about health and fitness as we are. We offer a wide range of regularly scheduled programs, including high impact TRX, boot-camp and spinning conditioning classes to low impact yoga and youth programming. All types of instructors/trainers are encouraged to apply. For current programming options, visit us at www.michigantechrecreation.com/programs.
Community Programs hourly instructors are responsible for preparing and conducting 50-minute fitness classes, and for the maintenance and care of Michigan Tech fitness equipment and facilities. All instructors are required to be CPR/First Aid certified (certification provided) and must be 18 years of age or older. Hourly instructor compensation is calculated based on training, certifications, and years of experience.
All applicants are required to provide:
Current contact information, including copy of government issued ID, e-mail, phone number and home address.
Current resume, including all fitness and instructing experience
Copies of any/all fitness/instructor certifications
Proposed class description and class outline (upon request)
Applicants will be required to teach a sample class for the Recreation Director and current Community Programs instructors (upon request).
For more information, please email communityprograms@mtu.edu.
---
Last Chance to Register for Sports Camps
Football, skating, soccer, tennis and volleyball camps are just around the corner! There is still time to register! Football
Step off the sidelines and into the game with Michigan Tech's renowned football camps. We offer Little Huskies for grades 3-5 and Development for grades 6-8. Skating
Master one of the most artful and athletic ice sports. Featuring a figure skating program for all ages and a learn-to-skate camp for grades K-5, we have opportunities for everyone. Soccer
Michigan Tech's Soccer Skills Camp is designed to teach fundamental playing skills to younger players. Open to grades K-8. Tennis
The Michigan Tech Tennis camp at Gates Tennis Center offers a balance of instruction, competition, and tactical skill building to take your game to the next level. Volleyball
Develop your serving, passing, setting, attacking, blocking, and digging skills with tips and pointers from the Michigan Tech volleyball coaching staff and team players. Choose from Little Huskies for grades 2-6, All Skills Grades 7-9 or All Skills Grades 10-12.
For more information or to register, visit Michigan Tech Sports Camps.
---
 ENTERTAINMENT AND ENRICHMENT

Paddle the Portage Hosted by OAP
Come down to Prince's Point on Thursday, July 16 from 5:00 – 8:00 PM to join in a leisurely paddle open to all skill levels. The cost is $20 per person and pre-registration is required.
Contact the Outdoor Adventure Program to sign up at 906.487-2290 or visit their location at 207 East Street, across the highway from the MTU Library.
---

Intro to Golf, Space Available
If you are interested in learning the basics of golf and would like to take part in a group lesson with other students, Student Activities along with Mark Moroste from the Portage Lake Golf Course, is hosting a small group lesson on Monday, July 20. Transportation is provided from the Outdoor Adventure Program to the golf course and back. Pick up is at 3:30 and the lesson is from 4-5PM.
Please come to Student Activities, MUB 112, with a $5.00 deposit and your student ID to sign up. If you have any questions please call 906.487-1963 or email activities@mtu.edu.
---
DID YOU KNOW?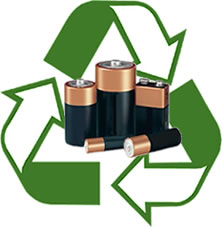 Recycle your Batteries at the Campus Bookstore
Did you know that the Campus Bookstore in the Memorial Union Building recycles batteries? Bring in your used batteries and they will recycle them for you. They take AA, AAA, C, D, and 9V.