THE MICHIGAN TECH LODE STUDENT NEWSPAPER
http://issuu.com/michigantechlode/docs/final_09172015
---
ENTERTAINMENT & ENRICHMENT
Homecoming 2015 – King and Queen Nominations Open
Homecoming 2015 is just around the corner…. more information about Homecoming can be found on the "Homecoming 2015"
Involvement Link page
.
King & Queen Nominations are open NOW:
King & Queen Nomination deadline –
Wednesday, September 23 at Noon
The Nomination form can be found
HERE
.
The Homecoming Court Info packet can be found
HERE
.
Candidates will be
required
to attend the Homecoming Court Info Meeting on
Wednesday, September 23 at 8pm

in MUB Alumni Lounge A
.
Thanks and Go Huskies!!!
---
Khana Khazana Serving Chinese Cuisine
Chinese cuisine is on the menu for Friday's Khana Khazana in the Memorial Union Building. Serving is from 11:00 AM to 2:00 PM. The menu features P.F. Chang's Chicken Lettuce Wraps—seasoned ground chicken, mushroom, peas, water chestnuts and onion seasoned and served in lettuce leaves (Vegetarian version with tofu available); Chinese Grilled Chicken—Chicken, coated with honey, hoisin sauce, lemon, garlic, soy sauce and ginger and grilled to perfection; and Chinese Fried Rice— Rice, egg, carrots, peas, green onion and bean sprouts seasoned and fried.
---
2015 Keweenaw Color Run: Sept 20, 2015
This event is meant to bring students and community members from different backgrounds and cultures together for hours of entertainment and fitness. With the purchase of your ticket, you will receive a free T-shirt at the beginning of the event in front of the MUB. After that, you may choose whether to partake in either a 2.5k or 5k filled with more color powder than you can handle. Once the run is finished, we will be celebrating with post race food and music.
Registration cost: $15 for Tech Students, $18 for Non-Students
Register Online @ www.Keweenawcolor.eventbrite.com, or in person as scheduled below. Event will be capped at 600 Participants, so register before it is too late. All proceeds will be donated to the Barbara Kettle Gundlach Shelter in Houghton.
Saturday, Sept 19: MUB Circle
4:00PM-6:00PM: EARLY REGISTRATION, Check-in and bib pick-up
Sunday, Sept 20: MUB Circle
8:00AM-9:30AM: Registration, Check in & Bib Pickup
10:00AM: Run/Walk Start
10:00AM-1:00PM: Festivities at the Finish Line
11:20AM: Raffle Announcement, must be present to win
---
St. Al's Barn Dance Open to the Public
Everyone is welcome to the Barn Dance on September 25 from 8:00 PM – 12:00 AM at the Chassell Pavilion. Dance lessons begin at 8:00 PM and the dance begins at 9:00 PM.
For more information please contact Rachelle at rmwiegan@mtu.edu or Richard at richard.fitzpatrick@focus.org
---
The Rozsa Gallery Transformed: Project Learning Lab Introduces Two New Art Spaces
Michigan Tech's Rozsa Center and The Department of Visual and Performing Arts announces Project Learning Lab, an innovative arts classroom for Michigan Tech students and the community.
Project Learning Lab turns the Rozsa Gallery into two spaces: A professional gallery, A-Space, which presents its first professional exhibition from September 25 – November 14, Senses of Land; and gallery b: An active learning classroom, gallery b, is a cutting-edge Visual Arts experiment that takes place within the Rozsa gallery. There will be an opening reception and gallery discussion in A-Space for Senses of Land from 6:00 – 7:00 PM on October 10.
Project Learning Lab is open M-F, 8:00 AM – 8:00 PM., and on Saturdays from 11:00 AM – 8:00 PM. It is free and open to the public.
---
Dr. Henry Pollack's Lecture and Multimedia installation A World Without Ice
Michigan Technological University's Rozsa Center in collaboration with The Department of Visual and Performing Arts, The Provost's Office, and The Great Lakes Research Center present Dr. Henry Pollack's lecture and multimedia installation A World Without Ice. The lecture will take place on Thursday, September 24, at 7:30 PM at the Rozsa Center for the Performing Arts. The lecture is free, but due to limited seating reserved tickets are required.
The multimedia installation will take place in the McArdle Theatre, on the second floor of the Walker Center, on Friday, Sept. 25 – Tuesday, September 29, 10:00 AM – 6:00 PM daily. The installation is free, and open to the public, tickets are not required. A variety of additional lectures, classes, and campus forums will also take place as a part of this event, including a panel lecture and discussion at the Forestry Friday Forum in the Forestry Building, on Friday September 25th, 3:00 PM – 5:00 PM.
---
Film Board Showing Jurassic World
This weekend (9/18 – 9/20), Film Board will be showing Jurassic World in Fisher 135.
Showtimes:
Friday, Sept. 18

–

5:30

,

8:30

,

11:30 PM

Saturday

,

Sept. 19

–

2:30

,

5:30

,

8:30

,

11:30 PM

Sunday

,

Sept. 20

–

2:30

,

5:30 PM
Tickets are $3, concessions are $1 each.
Next week is Inside Out.
---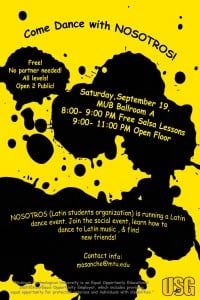 NOSOTROS Hosting Salsa Lessons
Nosotros is hosting free dance lessons on Saturday, September 19 from 8:00 – 11:00 PM in MUB Ballroom A. No partner needed and open to all levels.
For more information please contact Anika at akuczyns@mtu.edu
---
MEETINGS
Student Commission Meetings
Ever notice something about Michigan Tech that could be improved? Have you had a great idea that would have a positive effect on other students?
If yes, you are invited and encouraged to join us at the Student Commission meetings. We look to break down the barriers that impede student's success, and to improve Michigan Tech's campus environment.
You'll get the chance to have your ideas heard by staff, faculty, university officials, and most importantly other students. We work together to act on your idea and make changes. Past accomplishments of the Student Commission include:
• Female Business Attire – Supported the initiative to sell female business attire at the Campus Bookstore.
• Library Services – Staff from the Library regularly attend meetings to request input about their services. If possible they implement ideas/suggestions.
• Transportation Services/Facilities Management Updates – Facilities Management is regularly invited to the Student Commission to provide updates, information, and answer any questions the group may have.
• Tobacco, Smoke, Vapor Free Campus – The tobacco free campus policy was instituted in the 2013-14. The policy was revised to include vapor in January 2015.
• Water Bottle Filling Stations – 18 buildings have water bottle filling stations.
• Shuttle Service – Collaboration with Facilities Management to improve shuttle service for students
• Student Commission Website – a website has been created http://www.mtu.edu/student-affairs/administration/vp/committees/student-commission/
• USG and GSG Chairs – The Vice Presidents from USG and GSG will co-chair meetings with the Vice President for Student Affairs
• Services in Dining Halls – Addressed and resolved issues of services available in dining halls
• Sustainability on Campus – Recycling continues to be improved and expanded on campus
• Value Statement
• Relocation of Broomball Rinks
• Designated Memorial Garden
• Princess Point Rehab and Upgrade
• Experience Tech Fee Initiative
Anyone is welcome to attend upcoming meetings.
Please check out the Student Commission website for more information. http://www.mtu.edu/student-affairs/administration/vp/committees/student-commission/
2015 Fall Meeting Dates
• Thursday, September 24, 2015, 2:00 pm, MUB, Ballroom B2&B3
• Thursday, October 8, 2015, 2:00 pm, MUB, Ballroom A1
• Thursday, October 22, 2015, 2:00 pm MUB, Ballroom B2&B3
• Thursday, November 12, 2015, 2:00 pm, MUB, MUB, Ballroom B2&B3
• Thursday, December 10, 2015, 2:00 pm. MUB, MUB, Ballroom B2&B3
---
WORKSHOPS & FAIRS
Academic Success Workshops Hosted by Waino Wahtera Center for Student Success
All sessions are at 5:00 PM in the Memorial Union Building
September 22 (MUB Alumni Lounge)
Testing, testing: 1, 2, 3, 4
Do you ever feel like you know the course material but can't translate it to a successful exam grade?
Learn effective preparation and test taking strategies.
---
Study Abroad Fair
Study Abroad Fair takes place Wednesday, September 23, 11:00 AM – 2:00 PM in Fisher Hall lobby. You can speak with study abroad program reps, study abroad alumni, and exchange students. to learn more about our 150 + locations. The first 30 students who attend the fair will receive a FREE passport photo courtesy of Michigan Tech International Programs and Services!!
---
 HEALTH, WELLNESS & SPORTS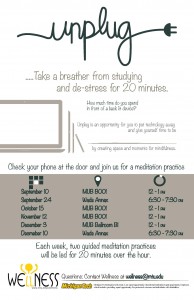 Unplug with Meditation Practices
Take a breather from studying and de-stress for 20 minutes. The next Unplug session will be on Thursday, September 24 from 6:30 – 7:30 PM at the Wads Annex (ground floor near the WMTU office.)
For more information on the Unplug series contact Whitney Boroski at 906.487.2560.
---

Upcoming Intramural Events
Entry Deadlines:
Disc Golf Singles:
Friday, September 18
@
3:00 PM
. (TODAY!)
---
CAREER SERVICES
Coming to You from Career Services
---
ANNOUNCEMENTS
Cashiers/Financial Aid Services Unavailable on Friday, 9/18
In observance of Marie Ryding's funeral on Friday, September 18, the Student Financial Services staff will be unavailable. Although no cashiering, billing or financial aid transactions can be processed, there will be other Student Affairs and Advancement staff on hand for general inquiries.
---
USG First Year Representative Nominations Now Open
Nominations for your 2015-2016 Undergraduate Student Government (USG) First Year Representatives are now available! Please click HERE to nominate fellow classmates or yourself for the position of First Year Representative on the USG body.
Nomination period ends at 9:00 PM September 23, 2015. Don't let this opportunity to select your future leaders pass you by. Additional information will be provided after you submit your nomination.