THE MICHIGAN TECH LODE STUDENT NEWSPAPER

http://issuu.com/michigantechlode/docs/final_10222015
---
ENTERTAINMENT & ENRICHMENT

MUB Board Murder Mystery Event with Improv Comedians
Oct. 29, 2015
8:00 P.M.
MUB Ballroom A
Come on over to the MUB and find out who done it! You will be given a super secret identity and comete in a live action game of Clue for some fantastic campus swag. Dust off your magnifying glasses, clean your trench coats, and leave the pipes at home. But remember, nothing is as it seems.
Get there fast cause space is limited!
---

MUB Baord Halloween Dance
Oct. 30, 2015
8:00 P.M.
DHH Ballroom
Join MUB Board, IRHC, and DHHC for a fantastic night of dancing, food, fun, and prizes! So now's the time to bust out your zombie blood or wizard robes and go all out! We wil have a green screen with your favorite Halloween backgrounds, a chocolate fountain, plus lots MORE!
A raffle will be held that includes multiple prizes including a Chromecast and bundle's with some of your favorite Halloween movies. Door prizes will be included.
Like on Facebook Follow on Twitter Bookmark our Website
---
Alpha Delta Alpha Hosting Pumpkin Carving
Join in for a fun evening of Pumpkin Carving on
 Friday, 
October 23 at 4:00 PM at the Alpha Delta Alpha house (810 E. South Ave. Houghton.) If you need a ride, please meet
 in the front lobby of Wadsworth Hall leaving at 3:50
 PM
.
For more information contact Andrea at 
arstarr@mtu.edu.
Next Week:
Trick or Treat for UNICEF
Saturday, October 31, 5:30 PM
Khana Khazana Serving Middle Eastern Cuisine
Felafel:
A deep-fried ball or patty made from ground chickpeas. The word Falāfil, which is the plural of Filfil, meaning "pepper". Falafel is a traditional
Middle
Eastern
food, commonly served in a pita, the falafel balls are topped with salads, pickled vegetables and hot sauce.
Shawarma:

Shawarma is made by stacking pieces of seasoned meat on a vertical spit. An onion, a tomato, or a halved lemon is sometimes placed at the top for decoration. The meat is roasted slowly on all sides as the spit rotates in front of, or over, a flame for hours.
Warbat:
Crispy and lightly sweetened layers of fillo dough on the outside, with a creamy custard filling on the inside.
Serving is from 11:00 AM to 2:00 PM in the MUB Food Court. The whole meal is $7 and includes a fountain soda or $3 for each item.
October 30-

  Thai

November 6-

 Moroccan
---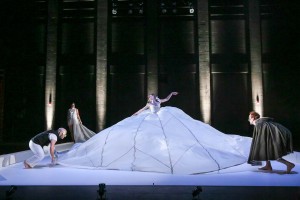 Aquila Theatre Presents a Minimal, Starkly Beautiful Romeo and Juliet
The story is so well known, star-crossed lovers who are doomed from the start, so why is this production special? This minimal adaptation is a joy of the senses: Simple, pared-down and shadowy, Aquila Theatre's Romeo and Juliet, directed and adapted by Desiree Sanchez, is a completely new way to experience one of Shakespeare's most iconic plays. Shakespeare's eight plus actors are cut down to five, the original seventeen roles reduced to eight. The story is condensed, focused, and chiseled away at until it stands out in uncluttered relief.
According to a recent review by Sam Hall, of DC Metro Theater Arts, "This is a very real and very serious production, full of shadows and chiaroscuro light….We have here a remarkable fusion of design, text, and performance, of consciousness, scenery, sound, light, space, meaning, and movement. This is Romeo and Juliet as high tragedy, a balletic dream …. a grandeur of poetry and high art. It is beautiful and disturbing. Deeply moving, without a trace of sentimentality. " 
Experience the beauty of Aquila Theatre's new production of Romeo and Juliet, playing at the Rozsa Center for the Performing Arts next Thursday, October 22, 2015 at 8:00 PM. There will be a pre-performance discussion with Aquila Theatre tour members at 7:00 pm in the Rozsa lobby. Tickets for Romeo and Juliet are on sale now, $24 for adults, $10 for youth, and no charge for Michigan Tech students with the Experience Tech fee. Advance reserved seating is now available, please order tickets early!
For more details please see the attached press release. A photo is also attached, please credit Richard Termine.
---
Late Night Programming Presents Dakaboom on 11/7
Mark your calendars because you don't want to miss this unique show on Saturday November 7 at 10:00 PM in the MUB Ballroom.
What is Dakaboom??
[youtube]https://youtu.be/ETz_AfdOcv4[/youtube]
---
MEETINGS & WORKSHOPS
HuskyLEAD Session – Know your Role: Tips for Leading and Following in a Team
Student Activities welcomes all students to the next HuskyLEAD session, "Know Your Role:  Tips for Leading and Following in a Team" to be held on
Tuesday, October 27
beginning at
6PM
in the Memorial Union Building Alumni Lounge.  The workshop will last one hour.
HuskyLEAD is a series of workshops designed to develop the leadership skills of students.  An effective team uses all members to get the most out of each person.  Learning which role you need to fill on a team can be vital to the success and efficiency of your group.  We will focus on finding your fit in the team and skills that you can use with any group.  This session will involve audience participation for most of the activities.  The presenters are Jared Johnson & staff from the Outdoor Adventure Programs.
---
CAMPUS NEWS
Attention all Students Graduating in December 2015
The Michigan Tech Student Foundation (MTSF) and the Student Philanthropy Council invite you to make your upcoming commencement day even more meaningful by participating in the Class Tribute Program. It's an opportunity for you to recognize someone special to you in the printed commencement program.
Just go to http://www.mtu.edu/classtributes for program and participation details. The deadline for tribute submissions is Monday, November 23, 2015.
For questions, contact Paula Nutini at 487-3609 or pjnutini@mtu.edu.
---
HEALTH, WELLNESS & SPORTS
Week of Wellness Events Come to a Conclusion 10/23
Friday, October 23:
Student Insurance Forum
Discussion on the complex topic of student insurance.
Noon-1:00 PM, MUB Ballroom
Jimmy Chin and Meru
41 North Film Festival presents filmaker/photographer/climber Jimmy Chin whose award winning documentary MERU tells a compelling story about risk, detrmination, friendship, and teamwork as climbers attemp tp summit Mount Meru's treacherous Sharks Fin.
7:30 PM, Rozsa Center for the Performing Arts.
---
Get Spooktacularly Fit with Haunted HuskiesFit Classes
---
Upcoming Intramural Events
Entry Deadlines:
3-on-3 Basketball: Thursday, October 29 @ 5:00 PM
– Play Dates: Tuesday, November 3 and Wednesday, November 4
Basketball Skills:
– Competition takes place on Tuesday, November 3 and Wednesday, November 4 (7:00-8:00 PM)
Register your team at www.imleagues.com/MTU
---
CAREER SERVICES
This Week From Career Services
---
COMMUNITY NEWS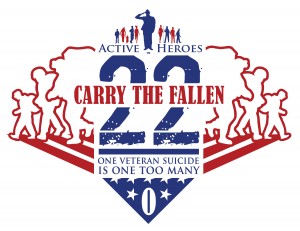 Carry the Fallen, Raising Awareness of Veteran Suicide Rates in America
Support our veterans by participating in the 9 mi march through Houghton and Hancock on October 31. The walk begins at noon at the MUB Circle.
For more information please see the WEBSITE or contact ddgreer@mtu.edu
---
REMINDERS
Sex Signals, an Improve Comedy/Educational Show
Be sure to join us for Sex Signals on Thursday, October 22, 2015 at 7:00PM or 9:00PM in the MUB Ballroom for  "a unique combination of improvisational comedy, education and audience participation that provides a provocative, in-your-face look at issues surrounding dating, sex, and date rape on college campuses." Seating is first come first seated.
For more info on Sex Signals visit http://bass-schuler.com/sex-signals/.
---
Unplug
Feeling stressed? Unable to concentrate? Never ending to-do list? Take time for yourself at Unplug! An instructor will lead you through guided meditation and functional movement to improve concentration, circulation, mobility and productivity. Reward your body and mind and give yourself time to just BE. Open to all students, faculty and staff. Remaining Fall Unplug!
Sessions:
Nov. 12, 

12:05-12:25 p.m.

 and 12:35-12:55 p.m., MUB B001

Dec. 3, 

12:05-12:25

 p.m. and 12:35-12:55 p.m. MUB Ballroom B1
---
Flu Vaccine Clinics Announced
Portage Health will offer four flu vaccine clinics on campus this fall. The vaccine is by injection at a cost of $30 payable at the time of service. Cash, check or credit card will be accepted. Shots will be administered on a first-come, first-served basis; no appointment is necessary. Employees, retirees, family members and students are welcome to attend one of the flu clinics. Anyone under the age of 18 cannot be vaccinated without parental permission. A spouse and/or child may attend without the employee. The flu clinics are from noon to 4 p.m. Wednesday during the Health Fair in the Memorial Union Isle Royale Ballroom.The will also be three additional clinics held in the Memorial Union Building:
4 to 7 PM Oct. 28 

in MUB Ballroom A1
10 AM to 1 PM 

Oct. 30

 in MUB Ballroom B

4 to 7 PM Nov. 3

 in MUB Ballroom B
---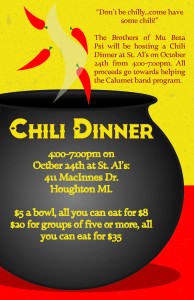 MU Beta Psi Chili Dinner to Benefit the Calumet Band Program
Come to a Chili Dinner at St. Al's, 411 MacInnes Drive, Houghton, on October 24 from 4:00 – 7:00PM. All you can eat for $8.00 or $5.00 a bowl. For groups of five or more, $20 or all you can eat for $35.
Hosted by the Brothers of Mu Beta Psi. Proceeds to benefit the Calumet Band Program.