MICHIGAN TECH LODE NEWSPAPER
---
ENTERTAINMENT & ENRICHMENT
Khana Khazana Serving Chinese Food
This week at the Memorial Union North Coast Grill and Deli, we are featuring a menu from China.
The menu features:
·         Enoki Mushrooms with Leek
·         Spicy Salad
·         Big Set Chicken (Stir fry chicken with Chinese bean sauces)
Serving is from 11 a.m. to 1 p.m. Friday. The cost is $7.95 and include a fountain beverage.
---

Homecoming Court Nominations are open NOW
King & Queen Nomination deadline – Friday, September 16 at NOON
The Nomination form can be found here: https://www.involvement.mtu.edu/form/start/110371
The Homecoming Court Info packet can be found here: https://www.involvement.mtu.edu/organization/homecoming/DocumentLibrary/view/480764
Candidates will be required to attend the Homecoming Court Info Meeting on Friday, September 16 at 3pm in MUB Alumni Lounge A.
---
This Weekend Film Board Presents, Warcraft
Friday, Sep. 16
@
5:30
,
8:30
,
11:30
Saturday
,
Sep. 17
@
2:30
,
5:30
,
8:30
,
11:30
Sunday
,
Sep. 18
@
2:30
,
5:30
Located on Michigan Tech's campus in Fisher 135. Tickets are $3, concessions are $1 each.
Warcraft is rated PG-13 for extended sequences of fantasy violence.
---
Food, Entertainment from Around the World at Parade of Nations
Ever eaten Moroccan food? Food from Bangladesh? How about Turkey? Those are just a few of more than 20 nations whose cuisines you can sample at the Multicultural Festival at Dee Stadium, following the annual Parade of Nationson Saturday.
Admission is free; meals or snacks can be purchased at the food booths.
During the Multicultural Festival, entertainers representing many countries and traditions will perform on a raised stage.  They include the Kivijat Dancers, cloggers, music and Bollywood dancers from the Michigan Tech Indian Students Association, Bells on the Bay—a group of handbell performers—Jan Arnold, a singer who accompanies herself on the guitar, the Michigan Tech Dance Squad and Bob Hiltunen, a singer who plays guitar, bass and keyboards. The Michigan Tech Pep Band will march in the Parade.
A family trip to Chicago will be the top prize in a drawing at the Dee. To enter, spectators need to hold up "I Love Parade of Nations" signs during the parade.
This year's headline act is Breaksk8, a professional jam-skating team that likes to push the limits of dancing with wheels under their shoes.
Read the full story.
---
Ridge Roamers Climbing Event for Women
A night for women to get together and climb. First time is free, afterwards $5/night or free with membership $20/semester or $30/school year. All equipment provided!
9/19/2016 7:00 PM – 9:00 PM
SDC multipurpose room Michigan Tech University 101 MacInnes Drive Houghton.
For more information please contact Michelle at mgnitz@mtu.edu.
---
Circle K International Service Organization Dog Walking Event
First couple weeks of school got you stressed? Join Circle K International for some stress-relieving dog walking and cat cuddling at the Copper Country Humane Society (located at the Nara trailhead, a quick two minute drive from campus) this Friday, September 16. If you are interested, we meet at the sign in front of DHH at 4:55 pm and provide rides to the Humane Society.!
Contact Jennie at jennieb@mtu.edu for more information.
---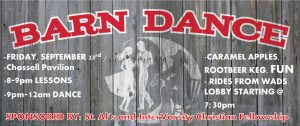 Barn Dance Sponsored by St. Al's and InterVarsity Christian Fellowship
There will be a Barn Dance held in the Chassell Pavilion on Friday, September 23, hosted by St. Al's and InterVarsity Christian Fellowship. Country Swing dance lessons will be available from 8-9pm and the dance will be from 9pm-12am.
For more information please contact Abigail at arsteinb@mtu.edu.
---

MUB Board Hosting Mini Golf Event, 9/16
Enjoy an evening on campus with drinks, cotton candy, and a nine-hole mini golf course, all conveniently on Walker Lawn from 4 p.m – 7 p.m. on Friday, September 16!
Check out their Facebook page for more upcoming events!
CAMPUS NEWS
Voter Registration Right on Campus at Mobil Office
Michigan's Secretary of State will provide a full-service mobile office on Tech's campus on Monday, September 19 from 12-4pm.
The Mobile Office brings voter registration directly to campus to make it easy for students to ask questions about the voting process. Students, staff, and faculty can also renew license plate tabs or driver's licenses, change their address, or take care of any other business they may have with the Secretary of State's office.
The last day to register to vote for the November election is October 11.
---

Cap and Gown Orders Now Available from the Campus Bookstore
Cap and Gown orders are now live and ready! To order your gown head to:
www.bookstore.mtu.edu
>Click on "Shop Textbooks and Supplies
>Click on "Supplies and Gifts"
>Click on Cap and Gown Orders
Fill out the appropriate information, submit, and an email notification will be sent to you. For any question or concerns, stop into the Campus Store or give us a call!
(906) 487-2410
---
Panel Discussion of Astute Business Alums
We are pleased to announce that the School of Business and Economics will be hosting a panel discussion on Thursday, September 22, 2016 at 3:30 – 4:30 pm in the Memorial Union Building Alumni Lounge. Learn about their career choices and professional experiences. The panel is open to all members of the community. Light refreshments will be served.
The panel will consist of members of the Michigan Tech Presidential Council of Alumnae. Panelists include:
Denise Blankinship, Vice President, Strategic Projects, The Church Pension Group
Michele Blau, Senior Manager of IBM Cloud Engagement and Enablement
Marie Cleveland, Worldwide Account Manager, FedEx Services
Carrie Schaller, Business Process Director – Manufacturing Operations, Dow Chemical
Joyce Ten Haken, Managing Partner/CPA, Ten Haken, Hinz & Company, Accountancy Corporation
Moderators include:
Dana Johnson, Professor of Supply Chain and Engineering Management, Michigan Tech
Suzanne Sanregret, Athletic Director, Michigan Tech
If you have any questions, please contact Dana Johnson dana@mtu.edu
---
CAREER SERVICES


This week in Career Services
Wednesday, September 21 | 11:00 AM – 2:00 PM
#R U Ready? Career Fair 2K16
Wednesday, September 21 | 11:00 AM – 2:00 PM
Steel Day
Wednesday – Friday, September 21 – 23 | 9:00 AM – 5:00 PM
Interview Skills Week & Mock Interviews
Wednesday & Thursday, September 21 & 22 | 11:00 AM – 2:00 PM
Resume Blitz
Thursday, September 22 | 5:00 PM – 8:30 PM
Rail Road Night
Friday, September 23 | 8:05 AM – 4:00 PM
Rail Day/Expo
Friday, September 23 | 8:00 AM – 11:30 PM
PCA Career Success Day
---
MEETINGS and INFO SESSIONS

To Stress Or Not To Stress
Are you feeling overwhelmed with classes, Career Fair, or life on campus? If so, come to our "To Stress Or Not To Stress" workshop. This stress management workshop will discuss common stressors among college students, healthy ways to deal with stress, and campus resources you can use to your advantage.
When: Thursday, September 22 at 6:00 pm to 6:30 pm
Where: Walker 107 (MTMC)
---
Special Lecture and Reception by Artist Lali Khalid
"Being Between," a special lecture by artist Lali Khalid, will be held at 3 p.m. Friday, September 16, in M&M U115. A reception will follow from 4:30 to 6:30 p.m. in the Rozsa Gallery, A-Space. All are welcome.
Khalid, a Pakistani-American artist, holds degrees from National College of Fine Arts in Lahore, Pakistan, and Pratt Institute in Brooklyn. "Being Between" is the first exhibit of the Rozsa Galleries new "Independent Artist Series."
Her photographs of identity, displacement and home, are on display in Rozsa Gallery, A-Space, through Thursday, Sept. 22.
Gallery hours:
8 a.m. – 8 p.m. Monday — Friday
1 p.m. – 8 p.m. Saturday
---
3rd Annual Rail Day & Railroad Night XII
The 3rd Annual Rail Day Expo & Railroad Night XII is next week! This event is a good opportunity to spend a casual evening and dinner with rail industry representatives, talk about career opportunities, and ask any questions about what life in the industry is like (did I mention there will be raffle prizes given away all night?!). The Rail Day Expo is good chance to see some examples of real-life railroad equipment and attend technical demonstrations to see how the equipment actually works. The activities will take place 

September 22nd & 23rd

 and are only a few days before the career fair, so you'll have a chance to talk to most of the companies before you see them there!
Railroad Night requires a $5 admission. Tickets can be purchased around campus in the weeks leading up to the event. Ticket sales proceeds go to student raffle prizes.
Ticket Sales Locations:
Dillman – 9/15 (10-2) & 9/19 (10-2)
MUB – 9/16 (10-2)
Wadsworth – 9/17 (
3-5PM
) 
LAST DAY
Presentation: A Journey to the Future of Transportation
Come listen to Dave Kaminski, Lab Director of Ford Motor Company's Research & Innovation Center in Palo Alto, share how Ford is accelerating innovation by tapping into the Silicon Valley start-up culture
Attend:
Tuesday, September 20 at 12 noon
in MUB B001
About Dave:
During his 27 years of global engineering experience at Ford, Dave has held leadership positions in Advanced Research, Electrical Architecture development, Product Design, Systems Engineering, and Vehicle Integration. In his current role, Dave manages a portfolio of cross-functional projects in Accelerated Product and Business Innovation, Automated Driving, Mobility, Connectivity, Data Analytics and In-Cabin Experience. Additionally, he manages university partnerships, business partners, startup accelerators, and other Silicon Valley technology forums.
Sponsored by the Pavlis Honors College Innovation Center for Entrepreneurship.
---
SPORTS AND WELLNESS

Upcoming Intramural Events
Entry Deadlines
2-Person Golf Scramble: Friday, September 16th @ 10:00 am
–       Tournament on Saturday, September 17th
–       Must sign up for a Tee-time in the Intramural Office.
–       The tournament has been rescheduled for this weekend
Racquetball Singles: Friday September 16 @ Noon
Kickball: Wednesday, September 21 @ Noon
–       Tournament on Sunday, September 25th
Flag Football: Friday, September 23 @ 8:00 am
–       Season begins on Sunday, October 2
Disc Golf Doubles: September 23 @ Noon
–       Tournament on Saturday, September 24 @ 10:00 am
Trails Relay: Tuesday, September 27 @ 3:00 pm
–       Race will take place on Thursday, September 29 @ 4:30 pm
Co-Rec Water Polo: Friday, September 30 @ 8:00 am
–       Season begins on October 3rd
Disc Golf Singles: Friday October 7th @ 10:00 am
–       Tournament on Saturday, October 8th @ 10:00 am
–       Tournament rescheduled because of the Golf 2-person scramble
Register your team at www.imleagues.com/MTU
For more information:  E-mail imsports@mtu.edu
---

Annual POW/MIA Bridge Run 5K
The Arnold Air Society and Silver Wings chapters on campus are hosting the annual POW/MIA Bridge Run 5K to bring awareness to the cause of Prisoners of War and those Missing in Action (POW/MIA).
The run will be 15 October 2016, check-in will begin at 7:45am in the gym of the ROTC Building, and the race will begin at 9:00am from the front of the ROTC Building. Prizes will be awarded to the top two male and female runners under 35, and the top male and female runners over 35. The price will be $15 to register beforehand (either here: goo.gl/7pxojl or there are hard copies in the lobby of the ROTC Building).
All proceeds of this run will go directly to the Lake Linden VFW!
---
REMINDERS
LEADERSHIP WORKSHOP: P3: People, Purpose, Passion: Student Success Summit 2016
October 8, from 9:00 AM­ – 4:00 PM.
Sessions include:
Sleep and Success
Mental Health Check Up
Mindfulness
Conflict Management
The Career Fair is Over: Now What?
Working with Diverse Learners
Healthy Relationships
Student Organization Management, Budgeting and Recruitment
Event Planning
Register Here for the Success Summit!
---
Campus Store Limited Fitting Accommodations for Career Fair
Effective September 6, 2016, the Campus Store retired its fitting services and will no longer be providing measuring or alteration drop-off/pick-up services.
For the Career Fairs in September and February, the Campus Store will schedule limited fitting accommodations with a local vendor for in-store purchases for Michigan Tech students. Due to the limited nature of Campus Store services, please prepare early and watch for upcoming fitting dates.
---
Scholarship & Grant Opportunity
Young leaders (ages 18-30) have the chance to compete to win an all-expense paid scholarship to Everyday Democracy's national convening in Baltimore, MD,
December 8-10, 2016
. Five finalist groups will present their work at the convening and compete for grants to support their work in their local communities. Deadline is
September 26.
Check out this
link
for more details.
---

Study Abroad Fair 2016
Study Abroad Fair takes place Wednesday, Sept. 21st, 10:00 am – 2:00 pm in Fisher Hall lobby. You can speak with study abroad program reps, study abroad alumni, and exchange students. to learn more about our 150 + locations.