MICHIGAN TECH LODE
Featured Stories:
News: Humanities hosts ROC colloquium
Pulse: Pride week at Tech
Opinion: Hillary email scandal vs. Trump's lewd comments
Sports: Huskies win fall opener
---
ENTERTAINMENT & ENRICHMENT
Makerspace Grand Opening Open House
Join us as we celebrate the Grand Opening of the makerspace, called the Alley, in the MUB Basement! We will be hosting an open house in the makerspace on Tuesday, October 25th from5-7 PM. Come check out the new space, have some fun, and meet other makers!
For more information on the space please checkout our website: makerspace.mtu.edu.
---
Greek Week Spectator Events, 10/23-10/27
Pool Games, Sunday, 10/23 from 8-10, SDC Pool: 
Come watch as Greek Members race in oversized T-shirts and inner tubes. Also watch as they try to sink each other's canoes in the SDC Pool.
Mock Rock, Thursday 10/27 from 7-9, MUB Ballroom: 
Enjoy the many talents of Fraternity and Sorority members as they present fun lip-sync performances for their last chance at points for Greek Week! The winners of Greek Week will be announced following the performances.
For more information please contact Madelyn at mmmorley@mtu.edu.
---

Khana Khazana Serving Indian Cuisine
Indian Food at Fridays Khana Khazana
This week at the Memorial Union North Coast Grill and Deli, we are featuring a menu from India.
The menu features:
Butter Chicken (Non-veggie)
Paneer Butter Masala (Veggie)
Gobi 65
Badam Kheer
Serving is from 11 a.m. to 1 p.m. Friday. The cost is $7.95 and includes a fountain beverage.
---
Pumpkin Carving Hosted by the MUB Board
MUB Board will be hosting Pumpkin Carving next Thursday from 7-9pm at the O'Connor House.
There will be pumpkins to carve and s'mores galore!
---
Friday, Oct. 21 @5:30, 8:30, 11:30
Saturday, Oct. 22 @2:30, 5:30, 8:30, 11:30
Sunday, Oct. 23 @2:30, 5:30
Located on Michigan Tech's campus in Fisher 135. Tickets are $3 and concessions are $1 each.
Sausage Party is Rated R for strong crude sexual content, pervasive language and drug use.  Those under the age of 17 will not be admitted without a parent or guardian.
---
The Big Bang Extravaganza Hosted by American Chemical Society
The American Chemical Society – Student Chapter invites you to the Big Bang Extravaganza on October 23 at dusk on the DHH Lawn.
Every year we host this event to celebrate the conclusion of chemistry week on mole day (10/23). We will be organizing several exciting and explosive demos on campus for students to view! These demos range from blowing up hydrogen balloons to flash-freezing tasty treats. We will conclude the event with an exciting showcase of our signature sparklers! Be sure to stay for the end, because these aren't your ordinary sparklers! They pack quite the punch and will be quite an impressive display!
ACS is a student affiliate of the national American Chemical Society dedicated to spreading our love of chemistry. Each year we host chemistry-related events and fundraisers. We aren't only chemistry or chem Eng. majors, but a collective group of people who share a deep passion for chemistry!
For more information please contact Alex at alvizurr@mtu.edu.
---

Come Dance with NOSOTROS, Free Salsa Lessons
October 22nd from 8:00 pm to 11:00 pm
Free Salsa lessons 8:00 pm – 9:00 pm and 9:00 pm – 11:00 in the MUB ballroom.
Everyone at any stage of dancing can join. Learn how to dance to Latin music with your friends and make new friends.
Sponsored by USG
Contact us here or kxfena@mtu.edu
---
Get Involved with Relay for Life
Have you been touched by cancer? Are you interested in making a difference? Relay for Life at Michigan Tech has been restructured this year, and will be hosting small events throughout the year, such as a chili cook off on November 12, bake sale on December 6-8, canvas painting night in early December, ski races, and video game tournaments. These events will be spread out during the school year, and will be starting in November!
Those who are interested in creating teams to get involved with these events or want to create an event on their own should sign up now on RelayForLife.org, under the Michigan Tech event. This is a great chance for student orgs, Greek orgs, campus departments, and other members of our campus community to get involved and raise money and awareness for the American Cancer Society.
For more information or to ask any questions, contact Brooke Basto at bebasto@mtu.edu or stop in to our weekly meetings in Fisher 130 on Wednesdays at 8 pm!
---
Tech Theatre Explores the Life of Astronomer Henrietta Leavitt in "Silent Sky"
"Silent Sky," a new play by Lauren Gundeson, tells the story of astronomer Henrietta Swan Leavitt. The play blends the discovery of how to measure the universe with the essence of the discoverer's life story.  Set against the turmoil of the cry for social justice at the beginning of the 20th century, the chronicle of Henrietta Leavitt counterpoints the power of a passion for work with the desire for love and family. Please join Tech Theatre for a play that contemplates the life, challenges, and contributions to our understanding of the universe. Ms. Leavitt discovered the first way of measuring the universe, to demonstrate that heavens were larger than the Milky Way, the limit of creation in her day.  Tech Theatre Presents "Silent Sky," for two weeks, Thursday – Saturday, October 13 – 15 and 20 – 22, in the McArdle Theatre, at 7:30 PM each night.
---
CAMPUS NEWS

LeaderShape Applications Now Being Accepted
LeaderShape Institute applications are now OPEN!  LeaderShape 2017 will take place January 2-7 at the Ford Center in Alberta, Michigan.  Don't miss out on this awesome experience to improve your leadership skills while learning how to have a healthy disregard for the impossible!
To register and apply, please visit this link.
Applications close on Thursday, November 3 at 11:59 pm.
If you're interested in further information, check out our website. Send any questions to Jonathan Davey (jrdavey@mtu.edu).
---
Vaccine Clinics on Campus
UP Health System-Portage will offer meningitis and flu vaccine clinics on Michigan Tech's campus this fall.
The quadrivalent flu vaccine is by injection at a cost of $40 payable at the time of service. Cash, check or credit card will be accepted.
Students with Michigan Tech's United Health Care (UHC) student health plan can have their flu vaccine billed to insurance with their UHC member ID card.
The meningitis vaccine is by injection at a cost of $159 with a flu shot or $199 without. Payment is expected at the time of service and will not be billed to insurance. Receipts will be provided and individuals can submit these to insurances to see if they'll be reimbursed. In order to receive the meningitis vaccine during one of the clinic dates below, you must schedule an appointment by emailing Whitney Boroski.
The dates of the clinics are:
Oct. 26, 4 – 6 p.m., Memorial Union Alumni Lounge
Nov. 1, 11 a.m. – 1 p.m., Memorial Union Alumni Lounge
Nov. 2, 4 – 6 p.m., Memorial Union Alumni Lounge
Anyone under the age of 18 cannot be vaccinated without parental permission. A spouse and/or child may attend without the employee.
---
CPR Certification Offered
Do you want to be better prepared for emergencies in your life? Become CPR and First Aid certified. There will be an American College Health Association CPR/First Aid class on November 9 from 5:00-9:00 p.m.
The class is instructed by Whitney Boroski Health and Wellness Coordinator in room 238 of the SDC. Cost is $5 per person. The class is limited to 25 people and is first come first serve.
Sign up here- https://goo.gl/forms/F5amZL09We6qi1Px2
---
Winter Parking Ban Takes Effect Nov. 1
Effective Nov. 1 through April 30, parking will be prohibited on the Michigan Tech campus between the hours of 2 and 7 a.m. to allow for snow removal. This regulation will be in effect regardless of the amount of snow on the ground. The only exceptions to this parking regulation are as follows:
Occupants of University housing, in designated parking areas
Employees working on an assigned shift and parking in assigned overnight parking spaces
Anyone issued a special overnight parking permit by Public Safety and Police Services or Transportation Services
All other vehicles violating this regulation will be ticketed and may be towed at the owner's expense. For questions or comments regarding the winter campus overnight parking regulation, call Transportation Services at 7-1441 or Public Safety and Police Services at 7-2216.
---
Attention Student Organization Officer: Funding Opportunity
Cummins, Inc. is offering your student organization the chance to receive funding!  In order to qualify for the funding, Cummins would like each student organization to create a 10-15 minute video presentation based on the template, Cummins Sponsorship Event 2016.  The presentation video needs to be made and submitted to Joe Thompson (josephth@mtu.edu) in the Pavlis Honors College by Friday, November 4th at 12:00 PM.  Cummins representatives will review the video presentations and award funding a few weeks after submission.
Over $5,000 in funds was distributed last year and we anticipate a similar amount available this year.  Based on feedback from last year, a successful presentation is concise but still provides suitable justification for each bulleted item in the presentation template.
Please see Joe Thompson (josephth@mtu.edu) in the Pavlis Honors College with any questions.
---
CAREER SERVICES

Husky Talks
LinkedIn Optimization: Tips for Improving Your Profile
Ensure your LinkedIn Profile makes a great first impression, presents you in the best, most effective light, and compels others to contact you.
Tuesday October 25 | 12:10 PM – 12:50 PM OR Wednesday October 26 | 12:10 PM – 12:50 PM
Graduating Senior Series
Part 1: Navigating the Workplace Climate
Graduation is right around the corner. Join us for this 5-part series to learn the tools needed to navigate life and finances after college.
Thursday October 27 | 12:00 PM – 1:00 PM
---
MEETINGS & INFO SESSIONS

Social Justice Lecture Series, Kye Allums
Kye is a speaker, activist, George Washington University graduate, and the first openly transgender NCAA Division 1 college athlete. Join the Center for Diversity and Inclusion for a free discussion on balancing school, sports, and identity on Tuesday, October 25 at 7:30 PM in the MUB Ballroom.
For more information please contact Zach at zlrubins@mtu.edu.
---
Next HuskyLEAD 11/1, Lean Leadership
The next Husky LEAD workshop is on Tuesday, November 1 @ 6pm in the MUB Alumni Lounge. During this session, participants will learn how Lean leaders build organization capability by coaching and developing others, and then practice coaching for improvement. Join us as we hear from Ruth Archer, Director of Continuous Improvement on Lean Leadership: Coaching Others.
For more information please contact Student Activities at 906-487-1963.
---
SPORTS & WELLNESS

Upcoming Intramural Events
Entry Deadlines:
Tennis Singles: Friday, October 21 @ 8:00 am
– Tournament Starts on Friday, October 21 @ 6:00 pm
Racquetball Doubles: Friday, October 21 @ Noon
– Tournament starts October 23rd
Register your team at www.imleagues.com/MTU
For more information: E-mail imsports@mtu.edu
---
HuskyFit Program Classes
Several adult HuskiesFit Program classes will begin their second session within the next few weeks. Sign yourself up for one of the following today:
Don't forget to take advantage of the HuskiesFit Ultimate Session Punch Card! This card can be used for yoga, spin, zumba, piyo and more!
For more information, visit HuskiesFit Programs. Commit to be HuskiesFit!
---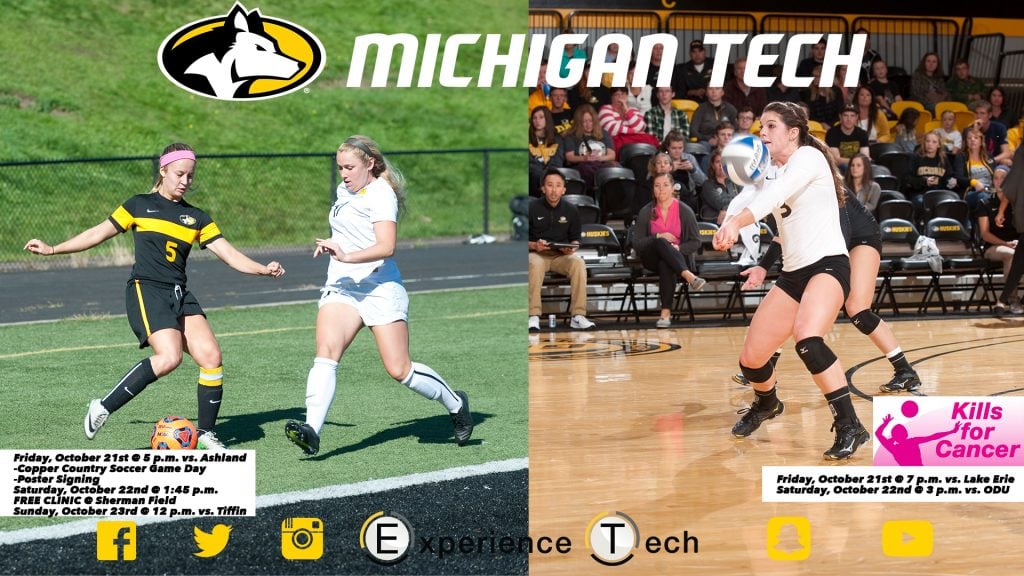 ---
END