MICHIGAN TECH LODE NEWSPAPER
---
ENTERTAINMENT & ENRICHMENT

Khana Khazana Serving Indian food this Friday
This week at the Memorial Union North Coast Grill and Deli, we are featuring a menu from India.
The menu features:
Chicken Chettinad Curry
Vegetable Korma (For Vegetarian)
Batata Vada
Mango Lassi
Serving is from 11 a.m. to 1 p.m. Friday. The cost is $7.95 and includes a fountain beverage. Visit Khana Khazana on Facebook.
---
This weekend, Film Board presents Arrival
Friday, Jan. 13 — 5:30, 8:30, 11:30 p.m.
Saturday, Jan. 14 — 2:30, 5:30, 8:30, 11:30 p.m.
Sunday, Jan. 15 — 2:30, 5:30 p.m.
Located in Fisher 135. Tickets are $3 and concessions are $1 each.
---
Alpha Phi Omega (co-ed community service fraternity)
Pizza making and board games rush
Come and meet the brothers (co-ed) of the only service fraternity on campus while making pizza and playing board games before the brothers have to volunteer as ushers for the hockey game. Meet at the Canterbury House.
Jan 20th 4:30-5:30pm
Canterbury House
Find us on Facebook at Alpha Phi Omega – Epsilon Lambda (MTU)
---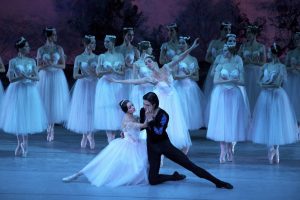 Rozsa Welcomes The Russian National Ballet Theatre
Michigan Technological University's Rozsa Center for the Performing Arts presents two magical nights of incomparable Russian ballet!  Direct from Moscow, the Russian National Ballet Theatre, featuring fifty of Russia's finest dancers, will perform three timeless ballet pieces, Romeo and Juliet, andCarmen on Tuesday, January 24, and Giselle, on Wednesday, January 25, with shows starting at 7:30 PM each evening.
Tickets to the ballet performances each evening are $28.00 for adults; $50 for Family Packs (2 adults and 2 youth each night); $45 Ballet Package (one adult for both nights); $10.00 for youth; and at no additional cost to students with the Experience Tech Fee. To purchase tickets, please call (906) 487-2073, go online at rozsa.mtu.edu, or visit Ticketing Operations at Michigan Tech's Student Development Complex (SDC), 600 MacInnes Drive, in Houghton. SDC box office hours are 8:00 AM – 9:00 PM, Monday-Friday, and 8:00 AM – 7:00 PM Saturday and 12:00 noon – 8:00 PM on Sunday. Please note the Rozsa Box Office is closed during regular business hours, and will only open two hours prior to show times.
---
Come Dance with Nosotros!
Where: MUB ballroom
Time: 8-9 pm salsa lessons, 9-11 pm open floor
When: Saturday 21st January
Cost: FREE!
All levels! No partner needed! Family friendly!
---
Participate in Yoga 4 A Cause with Alpha Gamma Delta
Join Alpha Gamma Delta in the MUB Alumni Lounge for Yoga 4 A Cause Thursday, January 26th 9 p.m. – 10 p.m. and Friday, January 27th 6p.m. – 7p.m. Leave an optional donation to support JDRF, an organization that is focused on Type 1 diabetes research.
---
Join new organization, Lean In at Michigan Tech, for their first meeting
Come join Lean In at Michigan Tech at our inaugural meeting on Thursday, January 26th at 5pm in M&M 610! We are launching a chapter of this national foundation right here at Tech in an effort to better provide resources, mentoring, and a space for open dialogue for the young women on campus. Come share your experiences, learn to ask more from your education and internships, and lean in. Please direct any questions to Emily Petersen at eepeters@mtu.edu. We look forward to you joining us!
---
Learn about Faculty-Led Study Abroad Opportunity in Lima, Peru  Wednesday, January 25th
There will be an information session for the summer 2017 Lima, Peru faculty-led study abroad program on Wednesday, January 25th at 6:00 pm in Walker 120 A.
Please visit the program webpage to learn more.
---
Join Alpha Xi Zeta for Bowling and Scattergories
Alpha Xi Zeta Bowling Rush
Sunday January 22, 2017
3pm at the Mineshaft
Rides available in front of Wads at 2:45pm
Alpha Xi Zeta Scattergories Rush
Friday January 27, 2017
6pm
Alpha Xi Zeta house at 224 Blanche St.
Rides available in front of Wads at 5:45pm
Contact Joslyn Pomeroy 231-299-5013 with any questions,
---
CAMPUS NEWS
Spring Semester HuskyLEAD sessions begin Tuesday, January 24th
The first HuskyLEAD session of the spring 2017 semester is on Tuesday, January 24 from 6-7:30pm in Fisher 135. This session is about how to receive funding for your student organization for the 2017-2018 academic year. If you want money, you'll need to come to this event!
---
Alternative Spring Break to Memphis, TN Applications Still Open
Apply now for an Alternative Spring Break trip to Memphis, Tennessee. The cost is only $100! Applications are due by January 31. For more information, check out our ASB website.
---
Food Pantry Volunteers Needed
Husky Food Access Network (HuskyFAN) is in need of volunteers to keep the food pantry open. The pantry is open from 4 to 6 p.m. Tuesday-Thursday.
Volunteers are needed for any amount of time they are able to offer.
If you're interested in volunteering, email huskyfan@mtu.edu and you'll be given more information on training materials and an updated schedule. Contact Whitney Boroski at wmborosk@mtu.eddu with questions.
---
University Launches CommUNITY Campaign
The CommUNITY campaign is a new campus-wide effort to promote the values set forth in Michigan Tech's Strategic Plan.
"We Inspire Community" is the first value listed in the Strategic Plan. It states, "We inspire an engaged community that actively seeks improvement through acceptance and understanding."
The CommUNITY campaign will include promotional materials and programming geared toward raising awareness and promoting actions that reflect these values.
Throughout the year, you will be introduced to multiple ways to engage with this campaign.
For more information contact equity@mtu.edu.
---
COMMUNITY EVENTS
Pigs N Heat Charity Event
Michigan Tech students are invited and encouraged to attend the Pigs N Heat Hockey game on Saturday, February 4  at the SDC. Tickets will be on sale in Fisher on Tuesday January 24th from 10 am to 4 pm. This Charity Event assists Fire and Accident victims between Houghton and Keweenaw Communities.
Police and Fire come together once a year to play a hockey game to raise money for the Charity, we have overwhelming support from both communities. What you may or may not know is that we consider Michigan Tech and Finlandia University part of our community and we do assist you in your time of need if you become a victim of a fire or an accident victim. We need your support by way of buying a ticket to the game and coming out to the event. There are many excellent prizes that we are raffling off, such as a $1000.00, $750.00 and a $500.o0 cash prizes as well as a  sky box at the game which will be raffled off a week prior to the game with food and beverages included. A rifle and shotgun will also be raffled off along with other great prizes.
Help us make this a success and have some fun before Winter Carnival. Hope to see you there.
Volunteers also needed to help sell tickets at venues such as Super markets or other events in the area. Contact Lt. Nick Roberts for more info at nickr@cityofhoughton.com.
---
SPORTS & WELLNESS
---
Upcoming Intramural Events
Entry Deadlines
Billiards:  Firday, January 20@ 8:00 am
– Tournament is on Saturday, January 21 @ 10:00 am
– Tournament will take place at DHH
Table Tennis Singles: Wednesday, January 25 @ 8:00 am
– Tournament will be on Friday, January 27 @ 6:00 pm
– Tournament will take place at DHH
Table Tennis Doubles: Wednesday, January 25 @ 8:00 am
– Tournament will be on Sunday, January 29 @ 1:00 pm
– Tournament will take place at DHH
CO-REC Racquetball Doubles: Monday, January 30 @ 8:00 am
Tennis Doubles: Wednesday, February 1 @ 8:00 am
– Tournament will start on Friday, February 3 @ 6:00 pm
– Tournament will take place at Gates Tennis Center
Innertube Water Polo: Tuesday, February 7 @ 8:00 am
– League Play will start on Wednesday, February 15th
Floor Hockey: Wednesday, February 8 @ 8:00 am
– League Play will start on Monday, February 13
Register your team at www.imleagues.com/MTU
For more information:  E-mail imsports@mtu.edu
---
Commit to be HuskiesFit this semester!
Commit to be HuskiesFit this semester! Adult group fitness classes are already underway. A variety of options are offered daily.
The HuskiesFit Ultimate Session Punch Card offers you the flexibility you need at a price you can afford!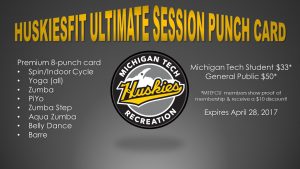 ---
Sexual Violence Support Group
T.E.A.L (To Empower And Liberate) is a group that provides support to Michigan Tech Students who have experienced sexual violence including childhood sexual abuse or sexual assault. Our group provides support to individuals of recent or past sexual violence in a safe, non-judgmental group. With the help of group support individuals can find understanding and help by sharing their struggles and triumphs with one another and begin to put their lives back together.
T.E.A.L meets every other Thursday from 6:00pm to 7:30pm starting January 19, 2017 on campus. Through discussion, support and education we can help one another.
If you would like more information or to sign up for group, please contact Peggy at Dial Help Inc.
---
CAREER SERVICES
Join us to learn about a variety of opportunities in the medical field.
(January 24 – 26 | 12:00 PM – 8:00 PM Daily)
Tuesday 24, Medical Device Day
Wednesday 25, Medical Careers Day
Thursday 26, Allied Health/Medical Laboratory Science Day
Consumer Products Day returns for another year! This "Shark-Tank style" event features your team – the entrepreneurs,  and the "sharks" – company representatives, who want to challenge you to come up with a re-purposed, re-designed idea for their company-supplied products.
Don't miss this opportunity to pitch your idea to industry representatives and win cash!
(January 26 – 28)
Thursday 26 5:00 PM – 7:00 PM, Packet Pickup and Meet & Greet
Friday 27 12:00 PM – 4:00 PM, Meet the Sharks – Event Kickoff – Team Registration and Product Pickup
Saturday 28 9:30 AM – 8:00 PM, Technical Abstract – Pitch Your Idea – The Finals
Registration is open and limited.
---
END