Chinese Cuisine at Fridays Khana Khazana 
Khana Khazana will feature Chinese food today, Friday, June 2, 2017, at the Memorial Union North Coast Grill and Deli.
The menu features:
Dice Chicken with Pepper
Fried Eggplant
Vegetable Salad
Serving is from 11 a.m. to 1 p.m. Friday. The cost is $5.95 and includes a fountain beverage. Visit Khana Khazana on Facebook.
---
Faculty, staff, graduate students and Michigan Tech retirees are invited to join the Center for Diversity and Inclusion, Housing and Residential Life and Student Activities from 3 to 6 p.m. today  (June 2) at the Hamar House for June's First Friday Social.
Complimentary soda, beer, wine and appetizers will be served. This is the final social for the 2016-2017 year. If you are interested in hosting a social for the 2017-2018 academic year or learning more, contact Christina Fabian at cfabian@mtu.edu or 7-2543.
---
---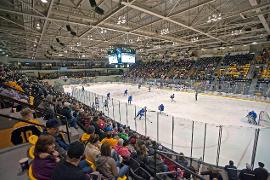 The John J MacInnes Student Ice Arena will open for the summer
June 5
. Take advantage of the following popular activities taking place:
Meet us at the Mac and commit to be HuskiesFit this summer!
---
Volunteers Needed for Firefighter's Tournament Saturday, June 24th
The South Range Volunteer Fire Department is celebrating its 110th anniversary by hosting the 64th Annual Copper Country Firefighters Tournament Saturday, June 24, 2017. The Annual Copper Country Firefighters Tournament celebrates and showcases our local fire departments. We are seeking volunteers to assist with the day's activities.  A tentative schedule is provided below:
8-9 am: Department Registration – South Range Fire Hall
9 am: Association Meeting – South Range Fire Hall Race captain meeting immediately following the association meeting downstairs of the South Range Fire Hall
Noon: Firefighter Races: In front of South Range Fire Hall  (There will be Food Concessions)
6 pm: Dress Parade Line up – First St. and Globe Ave.
7 pm: Dress Parade – Parade will start at the top of Trimountain Ave. and Globe Ave. and proceed down Trimountain Ave.
8 pm-Midnight: Firefighters Ball with music provided by Outlaw'D
10 pm: Tournament awards ceremony–Raffle Prize winners announced
We are looking for help throughout the day with food concessions, bartending, security, etc. and welcome any assistance you are willing to provide, even if you can only commit to an hour or two.
If you are interesting in volunteering, please email Gina Goudge at gmgoudge@mtu.edu to discuss your availability.
---