Daniel Martin Magician Here Tomorrow
Award winning Daniel Martin Magician will be on campus on Saturday, January 27, 2018 in MUB Ballroom. 
His shows have won him awards like "Entertainer of the Year" where he combines magic, cons, and sarcastic improv to create a stunning show. He has been performing since he was 12 years old. His high-energy blend of insane magic and sarcastic improv consistently leads to standing ovations at theaters and campuses nationwide.
Come and see one of the most creative acts touring today, Daniel Martin the Magician – tomorrow, January 27th in the MUB Ballroom at 10:00 pm.
---
Khana Khazana is Pakistani Cuisine
This week at the Memorial Union North Coast Grill and Deli, we are featuring a menu from Pakistan.
The menu features:                         
Sindhi Biriyani
Shahi Paneer Biriyani
Boondi Raitha
Falooda
Serving is from 11 a.m. to 1 p.m. Friday. The cost is $7.95 and includes a fountain beverage. Visit Khana Khazana on Facebook.
---
Josh Blue to Headline Winter Carnival 
The Rozsa Center is pleased to announce the 2018 Winter Carnival Comedian: Josh Blue, winner of NBC's Last Comic Standing, will headline this year's Winter Carnival Entertainment, on Friday, February 9, 9:00 pm, at the Rozsa Center.
Perhaps best known as the comedian who puts the cerebral in cerebral palsy, Josh Blue centers much of his self-deprecating act around his d
isability. He exploded onto the national comedy scene by capturing the attention and endearment of the country as the winner of NBC's Last Comic Standing.
In 2011, Josh starred in Comedy Central Presents: Josh Blue, which received rave reviews from fans and critics alike, in addition to being named the 11th best special on the network.
Tickets are on sale now, $15 General Admission, and no charge for Michigan Tech students. Tickets are available by phone at (906) 487-2073, online at mtu.edu/rozsa, in person at the Central Ticketing Office in the Student Development Complex, or at the Rozsa Box Office the evening of the performance.  Please note the Rozsa Box Office only opens two hours prior to performances.
---
HOW BIG OF AN EATER ARE YOU?
The Univesity Innovation Fellows are looking to influence the food options on campus driven by students and faculty. This will give Michigan Tech Dining Servies a better idea of which food options to provide on campus. Take part in responding to this survey: https://goo.gl/forms/aEJH5T0I2lf5JMuf2
---
Blue Key Honor Society Raffle
The Winter Carnival 2018 Raffle to support Blue Key Honor Society is now open with tickets available from Blue Key representatives or online at mtu.edu/bkraffle.  Tickets are only $5 with the winners being selected at the Queens Coronation taking place Saturday, February 3rd at 7pm in the Rozsa Center for the Performing Arts.  You do not need to be present to win.
The grand prize this year is a:
Magnuson Hotel Franklin Square Inn Getaway package including a 3 night stay in a deluxe waterside whirlpool suite
Dinner for two at the Bonfire Grill during Carnival
Two complimentary beverages in the Bonfire Bar each night
Champagne served in your room during the Torch Light Parade and Fireworks Display
Michigan Tech hockey jersey signed by the team
Mount Ripley tubing tickets
Country Inn and Suites $100 gift card
$75 to Festival Foods
Quincy Mine tour ticket package
Mineshaft family fun package
Superior Graphics Book bag valued at $45
$25 gift certificate to Quincy Dinning
Thank you for your support of Winter Carnival and Blue Key Honor Society!
---
Third Annual Consumer Products Challenge
The third annual Consumer Products Challenge has arrived! On January 25-27, bring your team and put your minds together to make the most creative product and win cash! This year, competitors will have an edge: we will be releasing some product information prior to the event to get your creative juices flowing!
The winning team will take home $1,000. The second place prize is $750 and third place is $500. One of the three winning teams will represent Michigan Tech at Make48, a televised national competition in Baltimore, Maryland. This all-expense paid trip will take place August 8-10.
This year's Consumer Products Challenge is sponsored by Kimberly-Clark, 3M and Amway. Register today: https://www.mtu.edu/career/careerfest/#consumer_product
---
Spring HuskyLEAD Series
Student Activities announces the Spring 2018 HuskyLEAD series.  HuskyLEAD is a series of hour-long workshops that help Michigan Tech students develop personal, professional, academic and organizational leadership skills.  The workshops are free and open to everyone.  All sessions will be held from 6 to 7 p.m. in the Memorial Union Alumni Lounge A.
Faculty and staff are encouraged to pass this information along to students.  Attendance is taken at the workshops and can be forwarded to faculty who assign them as a supplement to their curriculum.
The Spring 2018 schedule is as follows:   
Thursday, February 1 – "Know Your Role – Tips for Leading and Following in a Team."  An effective team uses all members to get the most out of each person.  Learning which role you need to fill on a team can be vital to the success and efficiency of your group.  We will focus on finding your fit in the team and skills that you can use with any group.  This session will involve audience participation for most of the activities.  The presenters are Jared Johnson and the Outdoor Adventure Team.
Thursday, February 15 – "Leveraging Leadership Skills with Employers."  You don't have to be in a leadership position to be a leader.  Learn innovative strategies to showcase your best self to future employers.  The presenters are Career Services and Doug Stage from Kimberly Clark.
Thursday, March 22 – "Leading with Inclusivity:  How to impact Your World with Intentional and Inclusive Actions, Language and Purpose."  This workshop will raise your awareness and understanding of how to recognize how our conscious and subconscious actions affect others and how we can shift our behaviors to create a more welcoming and inclusive community.  The presenter is Amy Howard from the Center for Diversity and Inclusion.
Thursday, April 5 – "Mindfulness 101:  Improve Focus and Reduce Stress Before Finals."  Learn the basics of mindfulness to help you reduce stress and increase your focus for final exams.  The practice of mindfulness can be applied to starting a new job or internship, or just reducing daily stress and living more fully in the present.  The presenter is Joan Kero, health coach and yoga instructor.
For more information, visit the HuskyLEAD website at http://www.mtu.edu/student-activities/leadership/huskylead/.  If you have any questions or comments about the workshops, email Rochelle Spencer at raspence@mtu.edu, or Maryann Wilcox at mawilcox@mtu.edu, or call 7-1963.
---
2018 Cummins Video Competition
Each student organization has to create a 10-15 minute video highlighting their need for funding then submit it to Zack Fredin, Enterprise Program Coordinator by Friday, February 23rd at noon. Any questions should be directed to zdfredin@mtu.edu. 
Guidelines for the creation of the video are here.
This competition will help your student organization receive more funds.
Deadline for video submissions is Friday, February 23 at 12 noon.
---
Order Your Cap, Gown & Tickets Today!
---
Michigan Tech Winter Carnival
The 2018 Michigan Tech Winter Carnival is here and there are only three
locations to get your official Winter Carnival gear: the Michigan Tech
Campus Store, University Images, and online at bookstore.mtu.edu.
"During the week of Winter Carnival", we will be offering Winter Carnival long and short sleeve t-shirts, crew neck sweatshirts, hoodies, hats, and glassware.
For store operating hours, check our website and social media feeds. Don't
forget! We will be open until 10 pm on Wednesday, February 7th, for the
all-nighter. Stop by to warm up and enjoy some fun games! Accept no
substitutes as we are your official headquarters for all your Michigan Tech
and Winter Carnival apparel and souvenirs.
---
Diversity in Jazz
That's what you get with the Jazz Combos Backstage at the Rozsa.
Join us in Club Rozsa, featuring three Michigan Tech jazz ensembles: JazTec, Momentum, and the Dan Furhrmann Trio. The stage of the Rozsa is transformed into an historic jazz club with vintage atmosphere, complete with café tables and a cash bar. Join Jazz Studies Program Director Mike Irish and the Michigan Tech Jazz ensembles for Jazz Showcase: Backstage at the Rozsa this Friday and Saturday nights, January 26 and 27, 7:30 PM.
---
Design Expo 2018 Registration Now Open
Design Expo 2018 will be held in the MUB Ballroom on Thursday, April 19th. Please save the date!
Design Expo highlights hands-on, discovery-based learning at Michigan Tech. More than 600 students on Enterprise and Senior Design teams showcase their work and compete for awards. A panel of judges, made up of distinguished corporate representatives and Michigan Tech staff and faculty members, critique the projects. Many team projects are sponsored by industry, which allows students to gain valuable experience through competition, as well as direct exposure to real industrial problems. Design Expo is co-hosted by the College of Engineering and the Pavlis Honors College.
Registration is now open for Senior Design and Enterprise teams. Students should visit the Design Expo website to review important instructions, deadlines and poster criteria. All Senior Design and Enterprise teams must register by Monday, February 12th, 2018.
---
SPRING 2018 INTRAMURAL SPORTS SCHEDULE IS NOW POSTED ON IMLEAGUES
Table Tennis Singles Tournament: Deadline on February 2nd @ 8:00 am
Table Tennis Doubles Tournament: Deadline on February 2nd @ 1:00 pm
Co-Rec Doubles Racquetball: Deadline on February 5th @ 5:00 pm
Floor Hockey Deadline on February 14th @ 8:00 am
Soccer-Tennis Deadline on February 16th @ 8:00 am
Innertube Water Polo Deadline on February 21st @ 8:00 am
Register your team at www.imleagues.com/MTU
– For more information:  E-mail imsports@mtu.edu
---
Mind Trekkers Spring Break in Charlotte, NC
March 10-18
Already sick of the winter, but can't afford the cost to travel somewhere warm? Come travel with Mind Trekkers to Charlotte, NC for Spring Break! For only $100 (+ $50 deposit), you will have your rooming, several meals, and transportation covered! Planned activities include: SkyWild, Greensboro Science Center, and the US National Whitewater Center. We will be hosting the Passport to STEM festival on the Thursday and Friday of the trip, where you will have the opportunity to excite over four thousand students about science & engineering with fun and hands-on demonstrations!
If you (and your friends) would like to apply, please fill out this form: MIND TREKKERS SPRING BREAK APPLICATION.  No previous experience with Mind Trekkers is required.
Please contact the Mind Trekkers President (djpoynor@mtu.edu) if you have any questions about this trip.
---
Experience variety at its best with HuskiesFit Yoga! Yoga classes are offered 6 days a week at the SDC so you can fit it into even the busiest of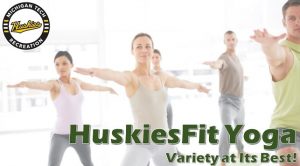 schedules.
8- and 16-punch yoga cards are also available at discounted student rates!
For more information, visit HuskiesFit Yoga. Commit to be HuskiesFit!
---

Look for these signs around campus and submit your feedback for a chance to win a free coffee!