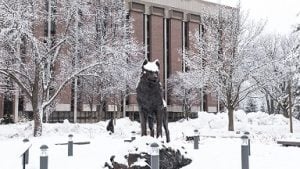 Winter is Here!
---
Walkers Be Careful
If you are walking to campus in the morning when it is still dark, please use extreme caution. There have been numerous reports of near misses as students are difficult to see in the dark, rain and snow.
Wear reflective clothing and be careful out there.
---
Come check out our next Late Night comedian, Jessi Campbell! 
Tonight!
Comedian Jessi Campbell has been seen on Last Comic Standing on NBC. She was named 2015 Female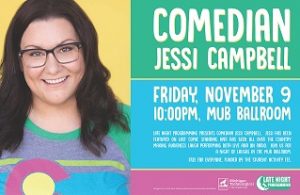 Performer of the Year by Campus Activities magazine, an award she was also nominated for in 2013. She has performed her unique brand of story telling at over 200 colleges, and over 100 comedy clubs, military bases, and bars where they begrudgingly turned off the TV. Jessi's debut comedy CD "Winner Winner" has been featured on iTunes and can be heard on Sirius/XM Radio, Pandora Radio, and terrestrial radio stations across country. Jessi was a part of the ARMY I.A.M. Strong Tour, and has performed at Gilda's LaughFest, The Boston Comedy Festival, The Great American Comedy Festival, San Francisco SketchFest, and was the People's Choice winner at the 2009 Aspen Rooftop Comedy Festival.

Join us on 

Friday, November 9th @

 10 pm for a night full of laughs in the MUB Ballroom

.

  Free for everyone, funded by the Student Activity Fee.
---
Campus Store is Celebrating Fall Fest!
It's almost Thanksgiving Break and we want to take this opportunity to show how thankful we are for all of YOU, our students.
Friday, November 9th,  from 1 pm to 4 pm, the Campus Store will be hosting FALL FEST!
FALL FEST is a special event to celebrate YOU.
Stop by the Campus Store and join in the fun! There will be games, contests, snacks, and prizes!
We look forward to seeing you!
---
LeaderShape Institute Applications are Open
The deadline to submit LeaderShape® Institute 2019 Applications has been extended to Friday, November 9 at 11:59 pm.Please consider applying for this week-long leadership development experience! 
The Michigan Tech 
LeaderShape® Institute runs from 
January 7 – 12, 2019
 at the Ford Center.
If you have any further questions about the application or the LeaderShape® Institute, please contact Student Activities in MUB 112 or emailing 
activities@mtu.edu
.
---
This weekend, Film Board Presents:
                                                                  Mission Impossible: Fallout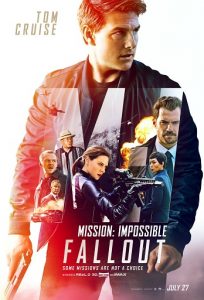 Friday, November 9 @ 5:30, 8:30, 11:30  pm          
Saturday, November 10 @ 2:30, 5:30, 8:30, 11:30 pm
Sunday, November 11 @ 2:30, 5:30 pm
Located on Michigan Tech's campus in Fisher 135. Tickets are $3 and concessions are $1 each. We hope to see you at the show this weekend and have a great day!
Mission Impossible: Fallout is rated PG-13 for violence and action sequences throughout, and brief strong language.
Want to see what movies we're playing next? Check out our movies and showtimes at the Film Board website: filmboard.mtu.edu
---
Superior Wind Symphony Concert
The Rozsa Center for the Performing Arts and Department of Visual and Performing Arts presents a concert by the Superior Wind Symphony (SWS), titled "Wisdom from Experience," a celebration of the music of long-lived composers, in honor of composers whose lives have been cut short. They will perform in the Rozsa Center this Friday, November 9, at 7:30 pm.
---
Pinocchio at the Rozsa
The Rozsa Center is pleased to welcome the acclaimed theater troupe Tout à Trac, from Quebec, Canada, with their adaptation of Pinocchio, a magical theatrical production which takes us on another amazing journey into the heart of childhood and imagination. Following the internationally acclaimed Alice in Wonderland, Tout à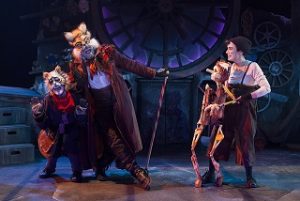 Trac returns with Collodi's tale about the world's most famous puppet: Pinocchio. They will present two shows on Saturday, November 10th, at 2:00 pm and 7:30 pm. Fun for all ages! In addition to the performance, guests at the 2:00 pm matinee will be treated to a "KC Bonker's Gepetto's Workshop" in the lobby, after the show, co-hosted by Trish Helsel, KC Bonker's, the Portage Lake District Library, and the Rozsa Center.
---
Fall Gallery Exhibition
The Department of Visual and Performing Arts and the Rozsa Center are excited to announce the fall gallery exhibition, Never Empty, featuring work by artists Dylan Miner (Ann Arbor, MI) and Amanda Breitbach (Nacodoches, TX). The exhibit will run from now through Saturday, November 10, 2018 in Michigan Tech's A-Space Gallery, within the Rozsa Center. Gallery hours are M-F 8:00 am – 8:00 pm and 1:00 – 8:00 pm on Saturdays.
Social Justice Lecture Series
Join us 
next Tuesday
 for our final Social Justice Lecture Series event of the semester. A panel of speakers will be discussing using indigenous practices in the Justice System.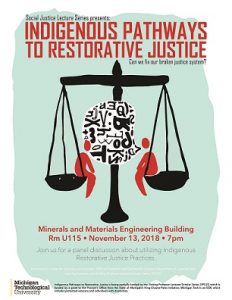 Free and Open to the Public, snack will be provided.
Tuesday, November 13, 2018 @ 7 pm

 in M&M U115
---
---
Industry Speaker from Altair
The Enterprise Program will be hosting Altair's Training and EDU Technical Relations Manager, Erik Larson, November 14 and 15 for a two-part industry speaker series event. On Wednesday, November 14 from 1-3pm in the Active Learning Center (MEEM120) Erik Larson will provide an overview of Altair's revolutionary, easy to use structural, optimization and motion analysis tool, Inspire.  Inspire offers a simple interface that will allow the user to quickly and easily prepare and solve Finite Element Analysis problems to aid in the engineering and light weighting of static and motion based systems. Inspire leads Altair's suite of software that promotes their philosophy of simulation driven design. Attend this seminar and start creating intelligent designs for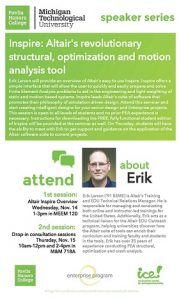 your  senior design and enterprise projects. This session is open to all levels of students and no prior FEA experience is necessary. Instructions for downloading the FREE, fully functional student edition of Inspire will be provided at the seminar as well.
On Thursday, November 15 from 10 am-12 pm and 2-4 pm in M&M 718A students will have the ability to meet with Erik to get support and guidance on the application of the Altair software suite to current projects.
Erik Larson ('91 BSME) is Altair's Training and EDU Technical Relations Manager. He is responsible for managing and conducting both online and instructor-led trainings for the United States. Additionally, Erik acts as a technical liaison for the Altair EDU outreach program, helping universities discover how the Altair suite of tools can enrich their curriculum and training faculty and students in the tools. Erik has over 25 years of experience conducting FEA structural, optimization and crash analysis.
---
ICE House Event
ICE House Resident Assistant and  eClub (Entrepreneurship Club) member Josh Jay is opening up the  ICE House , an MTU innovation and entrepreneurship theme house, to host a 1 Million Cups of Coffee event on 11/14/18 from 9:00 am -10:00 am.  If you are interested in entrepreneurship – stop by to support our student entrepreneurs and presenters Cameron Philo and Ranit Karmakar.  The address is 21610 Woodland Road, Houghton.  Parking temporarily will be available in Lot 25, which is adjacent to and east of the ICE House .  Parking permits will be provided at the event.  This event's coffee will be generously donated by a local company.
The ICE house is an on campus housing option with unique resources to help students pursue their ideas. If you are interested or have any questions fill out the short survey at the link below or contact Josh Jay jhjay@mtu.edu
---
Five Under Thirty-Five
Five incredible Michigan Tech alumni, under the age of 35 , who are following their dreams will visit campus to inspire and energize the student body and campus community. Hear what they have to say on Wednesday, November 14th at 4:30 pm at the Rozsa Center.
---
Business Model Canvas Bootcamp
The Innovation Center for Entrepreneurship will be hosting Business Model Canvas Bootcamp, a two-part workshop on Wednesday, November 14 and 28 from 7-9 pm in Rekhi 214. Using the Business Model Canvas, students will work with the Michigan Tech I-Corps Site Program teaching team to develop a business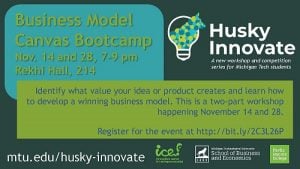 model for their technology or idea. Which customers does your idea or product serve? What value does it create? The I-Corps teaching team will guide students through the process of identifying value propositions and customer segments using customer discovery to develop a winning business model. Registration for this workshop is required.
Business Model Bootcamp is part of Husky Innovate, a series of workshops and events that build on each other with the intention of guiding students through key phases of innovation or business development. Students who participated in the Idea Pitch Competition and/or plan to compete in the upcoming Bob Mark Business Model Competition, are strongly encouraged to register for Business Model Canvas Bootcamp. Husky Innovate is hosted by the Innovation Center for Entrepreneurship, a collaboration between the School of Business & Economics, Pavlis Honors College, and the Vice President for Research Office.
---
Navigating Through The Holidays Workshops
A 60-minute workshop that will focus on empowering you to make healthy choices as you attend parties and family gatherings during the
holiday
season. Don't let the hustle and bustle of the 
holidays
 derail your healthgoals! Learn some tips and tools to help you 
navigate
 safely 
through
 the season.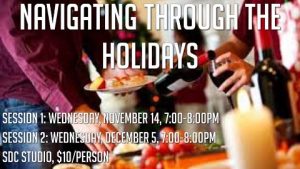 Dates/Times:
Wednesday

, November 14 &
Wednesday, December 5, 7:00-8:00 p.m.
Where: SDC Room 237
Only $10/person per session. Discounted rate for SDC members. Reserve your spot today! Visit
---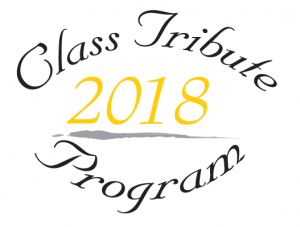 ATTENTION ALL STUDENTS GRADUATING IN December 2018: The Michigan Tech Student Foundation (MTSF) invites you to make your upcoming commencement day even more meaningful by participating in the Class Tribute Program.  It's an opportunity for you to recognize someone special to you in the printed commencement program.
Just go to ClassTributes for program and participation details.  The deadline for tribute submissions is Monday, November 19.
For questions, contact Adam Portmann at 487-2542 or aportman@mtu.edu.
---
SDC Building Hours During Thanksgiving Break
---
Home for the Holidays Gift Mart: Call for Vendors
Vendor booth applications are now being accepted for the 21st Annual Home for the Holidays Gift Mart, which will be held at the Rozsa Center for the Performing Arts on Saturday, November 24th from 10:00 am to 3:00 pm. The annual Home for the Holidays Gift Mart is a juried show, guaranteeing patrons an excellent and varied assortment of quality hand-crafted items to shop. Fifty vendors will be accepted into this year's Gift Mart, and local crafters and artists are encouraged to apply. Interested vendors, contact the Rozsa Center for a Booth Application by calling (906) 487-2858, or by emailing rozsa@mtu.edu. Early applications will be reviewed on Friday, October 19th, and vendors will be notified of their acceptance during the week of October 22nd. Applications received after October 19th will be reviewed upon receipt, and the application deadline is November 16th.
For applications and complete vendor details please contact Mary Ann Struthers, (906) 487-2858, rozsa@mtu.edu
---
Bob Mark Business Model Competition Applications Now Open
The Innovation Center for Entrepreneurship is hosting the 2018 Bob Mark Business Model Competition on Wednesday, December 5 from 7-9 p.m. in the Opie Library. Students can apply to compete here. The 2018 competition includes an idea pitch and a business model description.
President Koubek will be serving as a distinguished judge alongside other entrepreneurially minded faculty, staff, and community members.
Prizes for the upcoming Bob Mark Business Model Competition will be:
First Prize – $2,000 + $100 services from MTEC SmartZone
Second Prize – $1,000 + $100 services from MTEC SmartZone
Third Prize – $500 + $100 services from MTEC SmartZone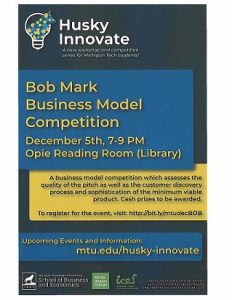 Honorable Mention (2) – $250 each
Audience Favorite – $250
MTEC SmartZone prize – $1000
This event is a tribute to the late Bob Mark, Professor of Practice within the School of Business and Economics. Mark started and ran the first four years of the Elevator Pitch Competition and brought the Business Plan Competition to Michigan Tech. The Bob Mark Elevator Pitch Competition and other efforts support his entrepreneurial spirit that continues to live on in students, faculty, and staff.
Students who participated in the Idea Pitch Competition on October 17 are strongly encouraged to apply to compete in the Bob Mark Business Model Competition. Students should apply by submitting this form no later than midnight on Wednesday, November 21st (before Thanksgiving break). The top 15 applicants will be selected to participate in the Bob Mark Business Model Competition. Students who upload a business model canvas to their application will be given priority consideration. Student guidelines, scoring criteria, and a blank Business Model Canvas can be found at mtu.edu/honors/ice/husky-innovate.
The 2018 Bob Mark Business Model Competition is part of Husky Innovate, a series of workshops and events that build on each other with the intention of guiding students through key phases of innovation or business development while emphasizing evidence based strategies for success. Bob Mark Business Model Competition is hosted by the Innovation Center for Entrepreneurship, which is a collaboration between the Pavlis Honors College, the School of Business and Economics, and the Vice President for Research Office.
---
SURF Applications Now Open
Applications for 2019 Summer Undergraduate Research Fellowships (SURFs) are now open. Fellowship recipients will spend the summer on an individual research project under the guidance of a Michigan Tech faculty mentor. SURFs are open to all Tech undergraduates who have at least one semester remaining after the summer term. Awards are up to $4,000. Applications are due by 4 pm on January 25, 2019.
A workshop on writing effective SURF proposals is scheduled for 6 pm on Tuesday, Dec. 11 in Fisher 132.
For more information and access to the application materials and instructions, visit the webpage or contact Paige Hackney (phackney@mtu.edu).
---
Get Involved with Tech Traditions
Do you enjoy the traditions at Michigan Tech, like Welcome Week and Homecoming? Have you ever wanted to get more involved, but were not sure how?  Join the Tech Traditions Committee today!  The Tech Traditions Committee is a joint committee of students and staff at Michigan Tech who work together to plan and run some of our favorite traditions.  Please email Rochelle (raspence@mtu.edu) for more information.
---
Michigan Tech Emergency Medical Services
Michigan Tech Emergency Medical Services is a student-led first responder agency with the purpose of providing high-quality medical response 24/7 to the Michigan Tech campus and surrounding areas as well as providing on-campus Heartsaver first aid and CPR and Basic Life Support certifications. Our volunteers are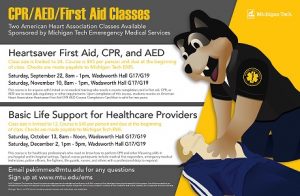 licensed as Emergency Medical Technicians through the State of Michigan and National Registry Certified. Each year, a small group of MTU students are accepted to become certified through participation in over 200 hours of education through the class put on by the agency. Further opportunities for members of the organization involve CPR instructor licensure, providing first aid standby at hockey games and other MTU athletic events, and involvement in community outreach events. For information of how to join, become certified, or participate in any of our CPR trainings, please email ems@mtu.edu.
---
Read a good book? Let us know!
The Summer Reading as Inquiry Committee is seeking book recommendations for fall 2019 and we'd love to hear from you!
Please review the recommendation guidelines below and if you have a title you'd like to recommend, complete the recommendation form.
Reading as Inquiry Book Recommendation Guidelines:
Feasibility: Is the book a reasonable length (<350 pages)? Will it be in paperback by May?
Readability: Could students read this with little guidance over the summer? Does it keep their attention until the end of the book? Does it appeal to a wide audience, regardless of major?
Relevance: Are the themes and/or characters relevant to the Michigan Tech community and students, particularly as they transition from high school to college?
Integration: Could the book be used across disciplines and campus programs?
Author availability: Is the author living and an engaging speaker? (A priority of the program is to bring the author to campus.)
Questions? Email hsimpson@mtu.edu.
---
Heathly Husky Workshop Series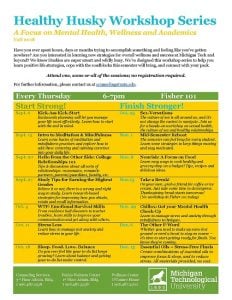 ---
New HuskiesFit Class
A new and exciting offer in the line-up of adult group fitness classes – Tai Chi!
Tai Chi, an ancient Chinese exercise combining relaxed fluid movements with a calm, alert mental state, is low impact and puts minimal stress on muscles and joints, making it safe for all ages and fitness levels. Join new HuskiesFit instructor Hilary Mondays from 2-2:50 p.m. and Wednesdays from 10:30-11:20 a.m. in the SDC Studio.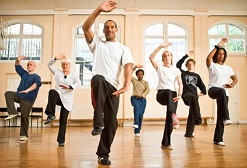 Fall Session: November 5 – December 19 (no class November 19 & 21)
Cost – Michigan Tech Student Session $24, General Public Session $30
(Pay at the SDC Ticket Office.)
For more information or to register, visit Tai Chi.