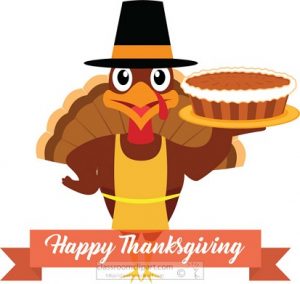 ---
Walkers Be Careful
If you are walking to campus in the morning when it is still dark, please use extreme caution. There have been numerous reports of near misses as students are difficult to see in the dark, rain and snow.
Wear reflective clothing and be careful out there.
---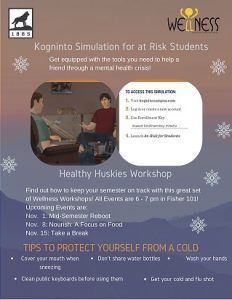 ---
Navigating Through The Holidays Workshops
A 60-minute workshop that will focus on empowering you to make healthy choices as you attend parties and family gatherings during the
holiday
season. Don't let the hustle and bustle of the 
holidays
 derail your healthgoals! Learn some tips and tools to help you 
navigate
 safely 
through
 the season.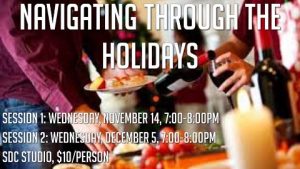 Date:
Wednesday, December 5
Where: SDC Room 237
Only $10/person per session. Discounted rate for SDC members. Reserve your spot today! Visit
---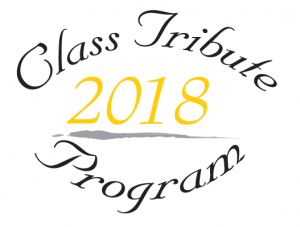 ATTENTION ALL STUDENTS GRADUATING IN December 2018: The Michigan Tech Student Foundation (MTSF) invites you to make your upcoming commencement day even more meaningful by participating in the Class Tribute Program.  It's an opportunity for you to recognize someone special to you in the printed commencement program.
Just go to ClassTributes for program and participation details.  The deadline for tribute submissions is Monday,November 19.
For questions, contact Adam Portmann at 487-2542 or aportman@mtu.edu.
---
SDC Building Hours During Thanksgiving Break
---
Home for the Holidays Gift Mart: Call for Vendors
Vendor booth applications are now being accepted for the 21st Annual Home for the Holidays Gift Mart, which will be held at the Rozsa Center for the Performing Arts on Saturday, November 24th from 10:00 am to 3:00 pm. The annual Home for the Holidays Gift Mart is a juried show, guaranteeing patrons an excellent and varied assortment of quality hand-crafted items to shop. Fifty vendors will be accepted into this year's Gift Mart, and local crafters and artists are encouraged to apply. Interested vendors, contact the Rozsa Center for a Booth Application by calling (906) 487-2858, or by emailing rozsa@mtu.edu. Early applications will be reviewed on Friday, October 19th, and vendors will be notified of their acceptance during the week of October 22nd. Applications received after October 19th will be reviewed upon receipt, and the application deadline is November 16th.
For applications and complete vendor details please contact Mary Ann Struthers, (906) 487-2858, rozsa@mtu.edu
---
MUB Board is Hosting Splash of Color – Painting Night
Join in on the fun and express yourself by painting either a canvas, glass or rock.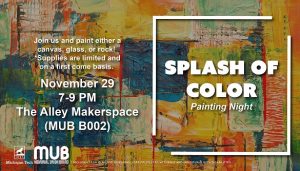 The Painting Night Splash of Color will take place in the Maker Space, MUB B002. Thursday, November 29th,  from 7 pm to 9 pm. Supplies are limited and is on a first come first served basis.
---
Bubble Soccer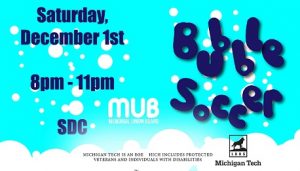 Come out to the SDC on Saturday, December 1st,               from 8 pm – 11 pm for some Bubble Soccer fun! It's a lot of fun and it's free!
Sponsored by the MUB Board.
---
Bob Mark Business Model Competition Applications Now Open
The Innovation Center for Entrepreneurship is hosting the 2018 Bob Mark Business Model Competition on Wednesday, December 5 from 7-9 p.m. in the Opie Library. Students can apply to compete here. The 2018 competition includes an idea pitch and a business model description.
President Koubek will be serving as a distinguished judge alongside other entrepreneurially minded faculty, staff, and community members.
Prizes for the upcoming Bob Mark Business Model Competition will be:
First Prize – $2,000 + $100 services from MTEC SmartZone
Second Prize – $1,000 + $100 services from MTEC SmartZone
Third Prize – $500 + $100 services from MTEC SmartZone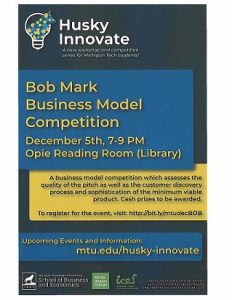 Honorable Mention (2) – $250 each
Audience Favorite – $250
MTEC SmartZone prize – $1000
This event is a tribute to the late Bob Mark, Professor of Practice within the School of Business and Economics. Mark started and ran the first four years of the Elevator Pitch Competition and brought the Business Plan Competition to Michigan Tech. The Bob Mark Elevator Pitch Competition and other efforts support his entrepreneurial spirit that continues to live on in students, faculty, and staff.
Students who participated in the Idea Pitch Competition on October 17 are strongly encouraged to apply to compete in the Bob Mark Business Model Competition. Students should apply by submitting this form no later than midnight on Wednesday, November 21st (before Thanksgiving break). The top 15 applicants will be selected to participate in the Bob Mark Business Model Competition. Students who upload a business model canvas to their application will be given priority consideration. Student guidelines, scoring criteria, and a blank Business Model Canvas can be found at mtu.edu/honors/ice/husky-innovate.
The 2018 Bob Mark Business Model Competition is part of Husky Innovate, a series of workshops and events that build on each other with the intention of guiding students through key phases of innovation or business development while emphasizing evidence based strategies for success. Bob Mark Business Model Competition is hosted by the Innovation Center for Entrepreneurship, which is a collaboration between the Pavlis Honors College, the School of Business and Economics, and the Vice President for Research Office.
---
Chess and Euchre Event
The MUB Board is hosting a Chess and Euchre Night on Thursday, December 6th,  from 6 – 9 pm in the MUB Commons.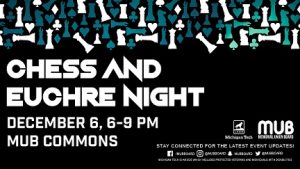 If you fancy yourself as a good chess or euchre player, come on in for some fun with some friends!
---
MUB Board to Host Shake N' Bake
Need a stress free environment to study for finals?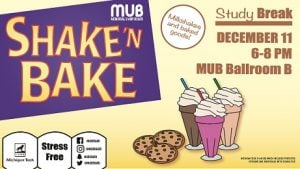 Come to the Shake N' Bake on Tuesday, December 11th  from 6 – 8 pm in the MUB Ballroom B.
Milkshakes and baked goods will be on hand to keep you going.
Have some fun while you study.
---
SURF Applications Now Open
Applications for 2019 Summer Undergraduate Research Fellowships (SURFs) are now open. Fellowship recipients will spend the summer on an individual research project under the guidance of a Michigan Tech faculty mentor. SURFs are open to all Tech undergraduates who have at least one semester remaining after the summer term. Awards are up to $4,000. Applications are due by 4 pm on January 25, 2019.
A workshop on writing effective SURF proposals is scheduled for 6 pm on Tuesday, Dec. 11 in Fisher 132.
For more information and access to the application materials and instructions, visit the webpage or contact Paige Hackney (phackney@mtu.edu).
---
Get Involved with Tech Traditions
Do you enjoy the traditions at Michigan Tech, like Welcome Week and Homecoming? Have you ever wanted to get more involved, but were not sure how?  Join the Tech Traditions Committee today!  The Tech Traditions Committee is a joint committee of students and staff at Michigan Tech who work together to plan and run some of our favorite traditions.  Please email Rochelle (raspence@mtu.edu) for more information.
---
Read a good book? Let us know!
The Summer Reading as Inquiry Committee is seeking book recommendations for fall 2019 and we'd love to hear from you!
Please review the recommendation guidelines below and if you have a title you'd like to recommend, complete the recommendation form.
Reading as Inquiry Book Recommendation Guidelines:
Feasibility: Is the book a reasonable length (<350 pages)? Will it be in paperback by May?
Readability: Could students read this with little guidance over the summer? Does it keep their attention until the end of the book? Does it appeal to a wide audience, regardless of major?
Relevance: Are the themes and/or characters relevant to the Michigan Tech community and students, particularly as they transition from high school to college?
Integration: Could the book be used across disciplines and campus programs?
Author availability: Is the author living and an engaging speaker? (A priority of the program is to bring the author to campus.)
Questions? Email hsimpson@mtu.edu.
---
New HuskiesFit Class
A new and exciting offer in the line-up of adult group fitness classes – Tai Chi!
Tai Chi, an ancient Chinese exercise combining relaxed fluid movements with a calm, alert mental state, is low impact and puts minimal stress on muscles and joints, making it safe for all ages and fitness levels. Join new HuskiesFit instructor Hilary Mondays from 2-2:50 p.m. and Wednesdays from 10:30-11:20 a.m. in the SDC Studio.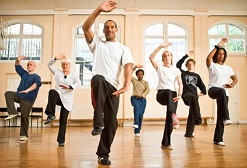 Fall Session: November 5 – December 19 (no class November 19 & 21)
Cost – Michigan Tech Student Session $24, General Public Session $30
(Pay at the SDC Ticket Office.)
For more information or to register, visit Tai Chi.