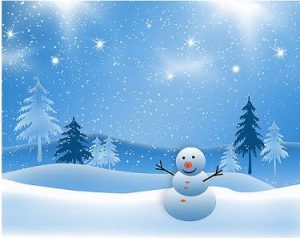 Enjoy the Snow!
---
Walkers Be Careful
If you are walking to campus in the morning when it is still dark, please use extreme caution. There have been numerous reports of near misses as students are difficult to see in the dark, rain and snow.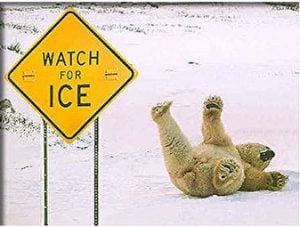 It can be slippery so be cautious!
Wear reflective clothing and be careful out there.
---
See the Magic of the Beloved Christmas Tradition: The Nutcracker
The snowflakes, the beloved Christmas music, the magical tale: Come to the Rozsa Center to experience the timeless Christmas tradition that is the Nutcracker Ballet! Minnesota Ballet and Keweenaw Symphony Orchestra (KSO) (with Joel Neves conducting) present a fully-staged production, with live orchestra, of Tchaikovsky's enchanting Nutcracker ballet. Aspiring young dancers from many area schools have also been training and rehearsing for their upcoming performances of "The Nutcracker."  There will be a pre-performance interview in the Rozsa Lobby with Joel Neves, Conductor, and the dancers and director of the Minnesota ballet each night!
Young dancers with the Superior School of Dance will take the stage with the professionals from The Minnesota Ballet to create this magical Christmas fairytale, along with Keweenaw Symphony Orchestra on Friday, November 30th – Saturday, December 1st at 7:30 pm at the Rozsa Center for the Performing Arts. Tickets are on sale now, $28 for adults, $12 for youth. Special for the Nutcracker performances, a $64 "family package" includes two adults and two youth tickets, and additional youth tickets can be added on for $8 each. No charge for Michigan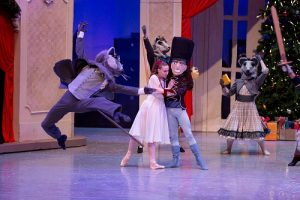 Tech students with the Experience Tech fee. Advance reserved seating is now available, please order tickets early! Tickets are available by phone at (906) 487-2073, online at Rozsa.mtu.edu, in person at the Central Ticketing Office in the Student Development Complex, or at the Rozsa Box Office the evening of the performance.  Please note the Rozsa Box Office only opens two hours prior to performances.
---
Come Dance With Us
NOSOTROS invites you to our next Latin dance and party that will be held this Saturday, December 1st. As usual we will have Latin and international music, free snacks, and a lot of fun. This is the last of the semester, so don't miss it!
Where: MUB ballroom A
Time: 8-9 pm salsa lessons, 9-11 pm open floor
When: Saturday, December 1st
Cost: FREE!
All levels, no partner needed & family friendly!
SEE YOU ALL THERE!
---
Bubble Soccer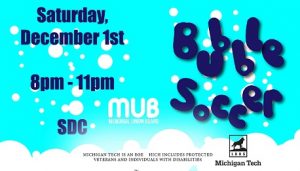 Come out to the SDC on Saturday, December 1st,               from 8 pm – 11 pm for some Bubble Soccer fun! It's a lot of fun and it's free!
Sponsored by the MUB Board.
Become an Agent for Innovative Change at Michigan Tech
We are looking for students interested in becoming agents of change to become University Innovation Fellows! They will work on improving the innovation and entrepreneurial ecosystem here at Michigan Tech. We are looking for creative, action-oriented students who are passionate and excited about innovation, entrepreneurship, or making positive change. Please forward this on to any students who you think may be interested. We appreciate all of your help in finding awesome students for this opportunity!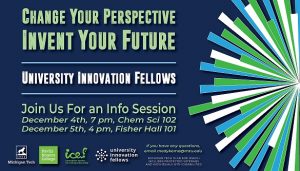 Learn more by attending an info session, held on December 4, 2018 at 7 pm in Chem Sci 102, or December 5, 2018 at 4 pm in Fisher Hall 101. We will be accepting applications will open December 10, 2018 at 8 am and close January 25, 2019 at 8 pm. The application can be found here: bit.ly/mtu-uif2019. Interviews will take place from 6-8 pm on January 27, 2019
---
 Navigating Through The Holidays Workshops
A 60-minute workshop that will focus on empowering you to make healthy choices as you attend parties and family gatherings during the
holiday
season. Don't let the hustle and bustle of the 
holidays
 derail your healthgoals! Learn some tips and tools to help you 
navigate
 safely 
through
 the season.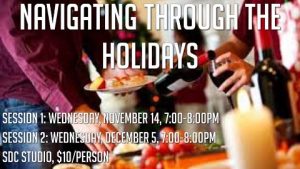 Date:
Wednesday, December 5
Where: SDC Room 237
Only $10 per person. Discounted rate for SDC members. Reserve your spot today! Visit
---
Join us for Bob Mark Business Model Competition on Dec. 5
The Innovation Center for Entrepreneurship is hosting the 2018 Bob Mark Business Model Competition on Wednesday, December 5 from 7-9 p.m. in the Opie Library. The competition includes an idea pitch and a business model description. Come show your support and cheer on your fellow huskies!
President Koubek will be serving as a distinguished judge alongside other entrepreneurially minded faculty, staff, and community members. Prizes for the upcoming Bob Mark Business Model Competition will be:
First Prize – $2,000 + $100 services from MTEC SmartZone
Second Prize – $1,000 + $100 services from MTEC SmartZone
Third Prize – $500 + $100 services from MTEC SmartZone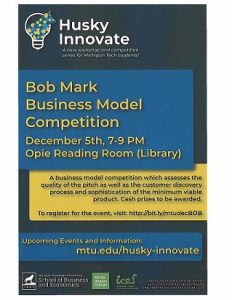 Honorable Mention (2) – $250 each
Audience Favorite – $250
MTEC SmartZone prize – $1000
The 2018 Bob Mark Business Model Competition is part of Husky Innovate, a series of workshops and events that build on each other with the intention of guiding students through key phases of innovation or business development while emphasizing evidence based strategies for success. Bob Mark Business Model Competition is hosted by the Innovation Center for Entrepreneurship, which is a collaboration between the Pavlis Honors College, the School of Business and Economics, and the Vice President for Research Office.
---
Self-Motivation Talk/Seminar
African Students Organization's campus-wide seminar on self-motivation as final exams draw close. The speaker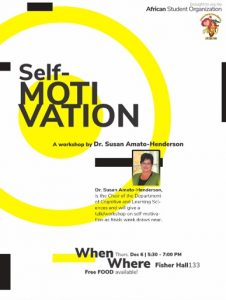 is Professor Amato-Henderson. She is the chair of Cognitive and Learning Sciences department and expert in motivation science, self-efficacy, and individual differences in STEM learning.
Thursday, December 6th
Venue is FISHER 133. Time: 5:15- 7:30 pm.
---
---
The Waino Wahtera Center for Student Success is Hiring for 2019-20!
Are you looking for leadership opportunities where you encourage the success of other Michigan Tech students?  Come join the staff of the Wahtera Center in the following positions:  OTL (Orientation Team Leader), ExSEL Peer Mentor, Academic Success Coach, and Success Course Peer Teaching Assistant.
To apply for any of these positions, you must attend one of the following info sessions to obtain an application.
Thursday, December 6 at 5 p.m. in Fisher 129 
Friday, January 18 at 4 p.m. in Fisher 138
Friday, January 18 at 5 p.m. in Fisher 138
If you have any questions, please email:  success@mtu.edu.
---
Come See Comedian Chinedu Unaka
Late Night Programming presents Comedian Chinedu Unaka. Chinedu has been featured on FOX's Laughs, The Mindy Project, Hulu's Coming to the Stage and on HBO's Shorts. He's been to clubs & colleges across the nation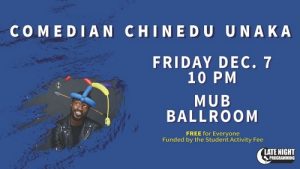 and even internationally. Join us on Friday, December 7 in the MUB Ballroom at 10:00 pm for a night full of laughs.
FREE for everyone, funded by the Student Activity Fee.
---
Big Sale at Campus Stores
Feeling appreciated is one of life's greatest pleasures and the Michigan Tech Campus Store and University Images would like to show our appreciation and thank you for your continued patronage by once again offering our semi-annual Customer Appreciation Sale from 8 a.m. to 6 p.m Friday, December 7th.
Nearly everything in the stores will be 25 percent off. We have a great selection of sporting apparel, outerwear, and souvenirs that would be the perfect gift for yourself or anyone on your holiday shopping list.
---
Help the Husky FAN
Don't let a Husky go hungry this holiday season! Help the Fraternity and Sorority community stock the Husky FAN shelves with food and personal hygiene items. The Greek Community wants to get the faculty, staff, and student body involved in making a difference within our Husky Community, while spreading the word about Husky FAN. How can you get involved?
Step One: Take down an ornament or two from the tree on the Greek Board in Fisher Hall. Each ornament has roughly a $3 item.
Step Two: Buy the item(s) (quantity up to your discretion).
Step Three: Bring it to the Greek Office in MUB 106 on December 7th from 12-3 pm. If this time does not work, please place the items in the box outside the Greek Office.
The last date to donate is December 7th. Please spread the word and help out our fellow Husky's in having a meal and supplies for the holidays! Thank you in advance for your support!
---
MUB Board to Host Shake N' Bake
Need a stress free environment to study for finals?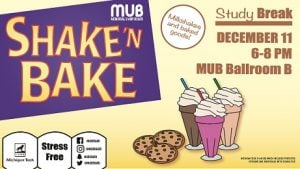 Come to the Shake N' Bake on Tuesday, December 11th  from 6 – 8 pm in the MUB Ballroom B.
Milkshakes and baked goods will be on hand to keep you going.
Have some fun while you study.
---
SURF Applications Now Open
Applications for 2019 Summer Undergraduate Research Fellowships (SURFs) are now open. Fellowship recipients will spend the summer on an individual research project under the guidance of a Michigan Tech faculty mentor. SURFs are open to all Tech undergraduates who have at least one semester remaining after the summer term. Awards are up to $4,000. Applications are due by 4 pm on January 25, 2019.
A workshop on writing effective SURF proposals is scheduled for 6 pm on Tuesday, Dec. 11 in Fisher 132.
For more information and access to the application materials and instructions, visit the webpage or contact Paige Hackney (phackney@mtu.edu).
---
Get Involved with Tech Traditions
Do you enjoy the traditions at Michigan Tech, like Welcome Week and Homecoming? Have you ever wanted to get more involved, but were not sure how?  Join the Tech Traditions Committee today!  The Tech Traditions Committee is a joint committee of students and staff at Michigan Tech who work together to plan and run some of our favorite traditions.  Please email Rochelle (raspence@mtu.edu) for more information.
---
Read a good book? Let us know!
The Summer Reading as Inquiry Committee is seeking book recommendations for fall 2019 and we'd love to hear from you!
Please review the recommendation guidelines below and if you have a title you'd like to recommend, complete the recommendation form.
Reading as Inquiry Book Recommendation Guidelines:
Feasibility: Is the book a reasonable length (<350 pages)? Will it be in paperback by May?
Readability: Could students read this with little guidance over the summer? Does it keep their attention until the end of the book? Does it appeal to a wide audience, regardless of major?
Relevance: Are the themes and/or characters relevant to the Michigan Tech community and students, particularly as they transition from high school to college?
Integration: Could the book be used across disciplines and campus programs?
Author availability: Is the author living and an engaging speaker? (A priority of the program is to bring the author to campus.)
Questions? Email hsimpson@mtu.edu.
---
New HuskiesFit Class
A new and exciting offer in the line-up of adult group fitness classes – Tai Chi!
Tai Chi, an ancient Chinese exercise combining relaxed fluid movements with a calm, alert mental state, is low impact and puts minimal stress on muscles and joints, making it safe for all ages and fitness levels. Join new HuskiesFit instructor Hilary Mondays from 2-2:50 p.m. and Wednesdays from 10:30-11:20 a.m. in the SDC Studio.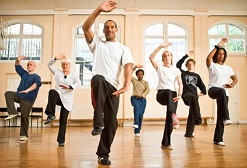 Fall Session: November 5 – December 19 (no class November 19 & 21)
Cost – Michigan Tech Student Session $24, General Public Session $30
(Pay at the SDC Ticket Office.)
For more information or to register, visit Tai Chi.