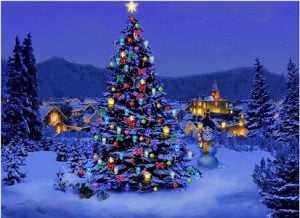 Have A Wonderful Holiday Break!
---
Walkers Be Careful
If you are walking to campus in the morning when it is still dark, please use extreme caution. There have been numerous reports of near misses as students are difficult to see in the dark, rain and snow.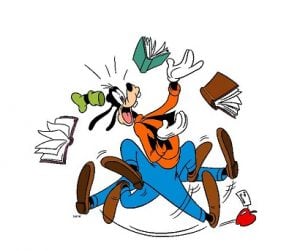 It can be slippery so be cautious!
Wear reflective clothing and be careful out there!
Drivers should always be on the lookout for students walking to school as well!
---
Public Skating
Make wonderful memories over the holidays with a fun family get together at the Mac for public skating!
Sunday, December 23, 12:00-2:00 pm
Friday, December 28, 11:00 am – 1:00 pm
Sunday, December 30, 12:00-2:00 pm
Free to SDC members and Michigan Tech students. Included in same day SDC day pass purchase. $3/person skating only.
Merry Christmas and Happy New Year from Michigan Tech Recreation!
---
SDC Holiday Break Hours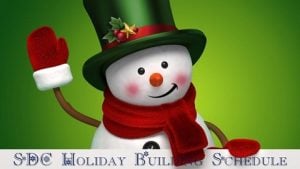 The SDC will observe reduced building hours during the holiday break, December 22, 2018 – January 12, 2019.
For more information, see the attached schedule or visit Holiday Building Hours.
---
Commit to be HiskiesFit in 2019! Change up your workout or try a new class. Set some new fitness goals.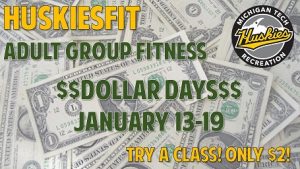 Several HuskiesFit Programs will offer classes for only $2 during 
Dollar Days
, January 13 – 19. This is a great chance for you to test the waters and see what we have to offer without breaking your budget!
Find what works for you and commit to be HuskiesFit in 2019!
---
The Waino Wahtera Center for Student Success is Hiring for 2019-20!
Are you looking for leadership opportunities where you encourage the success of other Michigan Tech students?  Come join the staff of the Wahtera Center in the following positions:  OTL (Orientation Team Leader), ExSEL Peer Mentor, Academic Success Coach, and Success Course Peer Teaching Assistant.
To apply for any of these positions, you must attend one of the following info sessions to obtain an application.
Friday, January 18 at 4 p.m. in Fisher 138
Friday, January 18 at 5 p.m. in Fisher 138
If you have any questions, please email:  success@mtu.edu.
---
---
Residential Life is Hiring
Residential Life is hiring Resident Assistants (RA) for the 2019-2020 academic year. All new resident assistant candidates must attend one information session. An information session will take place on January 23, 2019 from 6-7 pm in Fisher 135. After attending an information session, candidates may complete the application on Handshake. Interviews will be held between February 4 – 5, and February 11 – 15, 2019. With any questions about the RA position, please email Kaylee Kapatos at kkapatos@mtu.edu or call 906-487-1453.
---
HuskiesFit and Outdoor Adventure Programs
Check out the awesome lineup of HuskiesFit and Outdoor Adventure Programs we have in store for you this spring! All adult and youth classes are open for registration!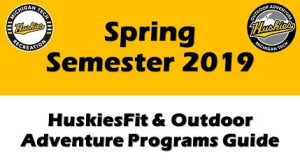 We've got something for everyone! Keep yourself and your family HuskiesFit with HuskiesFit and Outdoor Adventure Programs classes this spring!
---
New Opportunity for Choreographers and Composers in 2019:
Rabbit Island and The Rozsa Center Create Residency Program
The Rabbit Island Foundation and Rozsa Center for the Performing Arts announce a new 2019 residency opportunity: The three-week Choreographer and Composer Residency encourages collaboration between a choreographer and composer in a wild natural setting offering time, space, and financial support to explore environmental concerns through dance and music. The two applicants selected, one choreographer and one composer, will spend two weeks on Rabbit Island, then one week of studio time at the Rozsa Center, and their final work will be premiered as part of the Rozsa Center Presenting Series season in 2020-2021. An honoraria of $2000 USD will be awarded to both the choreographer and composer.
The opportunity is an open call available to anyone working in the fields of choreography and composition. The selection committee is made up of each organization's directors, Rabbit Island alumni, and accomplished choreographers and composers. The deadline for applications is Friday, February 15th, 2019 at 11:59 pm Eastern Standard Time. Awarded residents will be notified in early May, 2019. A complete application guide and online submission form can be found at http://www.rabbitisland.org/art.
Rabbit Island is a 91-acre wilderness island partitioned from the mainland by the largest body of freshwater in the world, Lake Superior. As such, the location provides artists a remote contextual challenge to create works which add to the evolving contemporary conversation of art and the environment. Since 2013 the Rabbit Island Residency open call for all disciplines has received over 1000 applications from 45 countries. The Choreographer and Composer Residency marks the Rabbit Island Foundation's first focused residency and first collaboratively created residency with the Rozsa Center.
Rabbit Island Foundation President Rob Gorski states, "The Choreographer and Composer Residency contests the status quo. Rabbit Island exists to encourage the creative community to focus intensely on the most fundamental narrative of our age—the environment and the human relationship to it. This residency challenges applicants to take risks and create bold work challenging the assumptions of the cultural landscape created by previous generations of choreographers, composers, and thinkers. We presume that there exist more meaningful ways to contextualize music and dance to the evolving understanding of ethics within the Anthropocene. This residency offers time, space, and context to take a shot at precisely this."
To learn more about the residency opportunity, the Rabbit Island Foundation, and the Rozsa Center for the Performing Arts; full application guidelines and submission information for can be found at http://www.rabbitisland.org/art.